Rhianna Murray – She's one of our own
8 February 2022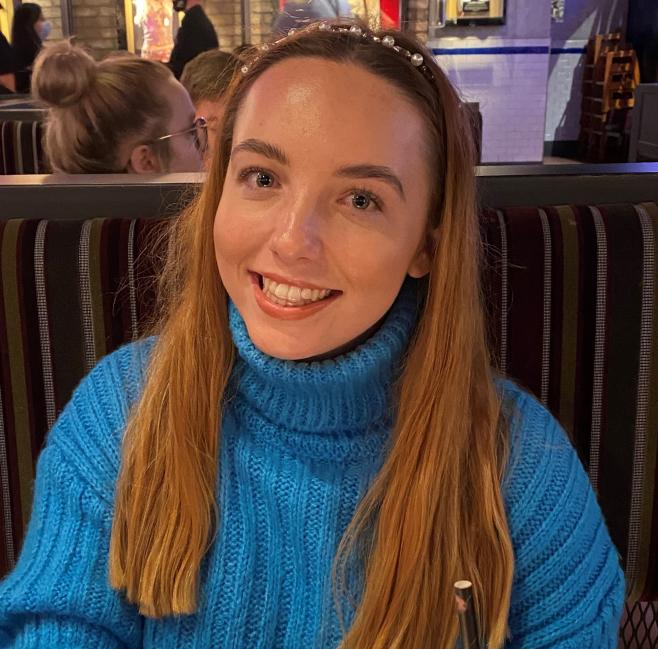 To raise awareness of the career path and recognise the value apprentices add to our workforce, this week we spoke to our very own Rhianna Murray who is a Level 3 Business Administration Apprentice in the Widening Participation Team.  
What apprenticeship are you studying and what does the study involve? 
I am currently studying for a Level 3 Business Administration. My study involves a variety of modules and projects to complete each month, with an aim of then presenting an end point assessment about a process I have followed in my work life at the end of my apprenticeship. Some of the past modules I have completed include work on the PESTLE analysis and how this relates to NHS/HEE and their values, monthly work shadowing documents, safety online and/or in the workplace, finance and budget management, and many more which have all helped improved my knowledge. 
Why did you want to do the apprenticeship?  
I wanted to do this apprenticeship as the role within the Widening Participation team fit in with my degree in Sociology, as it is all about inclusivity and encouraging different people from different backgrounds to be involved. I also see the NHS and Health Education England as a career pathway for life, so being able to get in to such a huge organisation will give me the skills and opportunities to hopefully move around and progress. 
What are your key responsibilities?  
Day-to-day tasks involve minute taking, diary management, organising meetings, using different IT software such as SharePoint, Microsoft, and Outlook, and much more. I am also involved in a variety of projects and events such as Creative Forces and Creating Careers, to encourage young people (from service families and/or other backgrounds) to start a career in the NHS and highlight how there are over 350 careers available. I also have had the opportunity to do voluntary work for the People Managers Network, undertaking the admin tasks, where managers and aspiring managers meet once a month and have a guest speaker discussing a range of topics from interview skills to inclusive conversations. The other voluntary work I am involved in is about organisational development, where I help to arrange training on different topics, such as project management and minute taking, and gather the feedback for these training courses. There are a variety of responsibilities, but all of these help me to progress, learn more skills and apply them to my apprenticeship work. 
What do you enjoy about the apprenticeship?  
I enjoy a variety of things about my apprenticeship, including the ability to learn while being in a job role, as I can gain real life experiences by being involved in various tasks and events, whilst using those transferrable skills to help me complete my assignments and enhance my overall personal development. I also love that there are so many opportunities available, such as the volunteering I have already mentioned. This is because it gives me more exposure to the roles available within HEE and helps me to learn what I enjoy and what I may be interested in if I can stay within this organisation. 
What has been the biggest challenge to date?  
My biggest challenge to date has been preparing for my end point assessment, as it is difficult to think of a task/process to focus on, that I'll be able to write and present about. However, I have been able to speak to my apprenticeship tutor and my team who have been able to support and help me think of different topics I could speak about. Now I have decided on a process, I think planning the project itself will be a challenge, as I have never done this before, but I am looking forward to it and learning new skills. 
What do you want to do once you complete your apprenticeship? 
I would like to stay within Health Education England and the NHS, and hopefully find a permanent career, and continue progressing and developing myself and my skills. 
What would you say to someone considering an apprenticeship? 
I would definitely recommend an apprenticeship as you can learn, earn, and gain so many transferrable skills and experience to help enhance your own development. I would also recommend it as the variety of modules and day-to-day work available helps you understand what you enjoy, which will hopefully give you an idea of the career path you want to follow if you are unsure. 
Interested in exploring an apprenticeship in the NHS? https://www.apprenticeships.gov.uk/