Challenge launched to support domiciliary care workforce
7 April 2021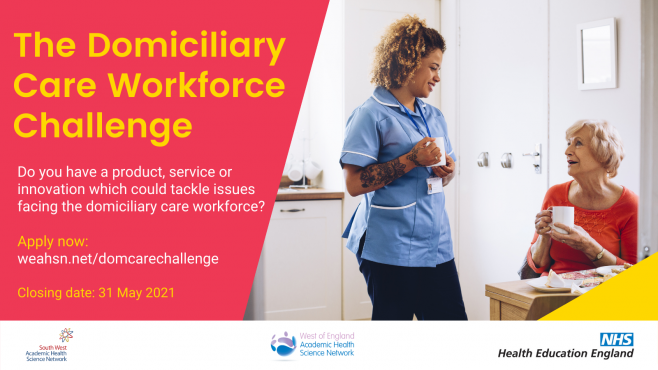 The UK domiciliary care workforce is under huge pressure, accentuated by the COVID-19 pandemic. 
In response to this Health Education England and the Academic Health Science Network (AHSN) in the south west and west of England have launched an innovation challenge.
We are looking for a ready to adopt product, service, way of working or toolkit to support the domiciliary social and health care workforce in the areas of supply, skills, leadership, new ways of working or new roles. 
Even before the pandemic domiciliary social care providers were reporting challenges such as workforce supply and staff turnover. The innovation challenge is designed to find solutions to support this vital workforce.
From digital apps, new technology and toolkits to changes in services, systems and processes, we are looking for already proven solutions that are ready for adoption (or adaptation) to spread across the west and south west of England (from Gloucestershire and Wiltshire to Cornwall).
The Challenge is open to individuals, companies, organisations and consortia (including NHS, local authorities, social care providers and independent sector). 
Innovators can apply for a share of the £100,000 funding to test solutions over 12 months in domiciliary care settings, and will receive support from the two AHSNs in finding an organisation to host the trial, with the opportunity to work with a project manager and gather real world evidence. Depending on the results, there is also potential support for regional and national scale up via the AHSN Network.
Debi Reilly, South West Regional Director, Health Education England, said:
"Having the right staff in place, with the right skills, is essential to ensure that domiciliary care services can operate effectively. It is demanding work, both physically and emotionally, and staff are often working remotely and in silo and under huge time pressures. Opportunities for training and career progression is limited. How can we better support and look after people working in domiciliary care? How can we provide more opportunity for learning and development, especially when staff are so busy?"
Nikki Taylor, Programme Manager, South West AHSN, added:
"We're looking forward to hearing from a variety of innovative organisations with ideas to improve the capacity, capability and wellbeing of the domiciliary care workforce. We're casting the net wide to attract a range of products and service-based solutions; this could include innovations for managing staff rotas, transport and logistics, information and record sharing to training and career development, personal wellbeing such as mental health resources, gym memberships and peer-to-peer or employee support networks. We hope to be inspired by what's out there now and excited by the potential for spreading innovation in this sector. So, if you have a proven solution, then we want to hear from you!
The call for innovation closes at 17:00 on Monday 31 May 2021. 
To find out more or submit your innovation visit the West of England AHSN Workforce Challenge webpage.