Facilities
Responses to the National Education and Training Survey 2018 under the theme of facilities.
From the HEE Quality Framework, the expectation for the quality of your facilities are:
The learning environment provides suitable educational facilities for both learners and educators, including space, IT facilities and access to quality-assured library and knowledge.
NETS question: The availability of library facilities and IT facilities.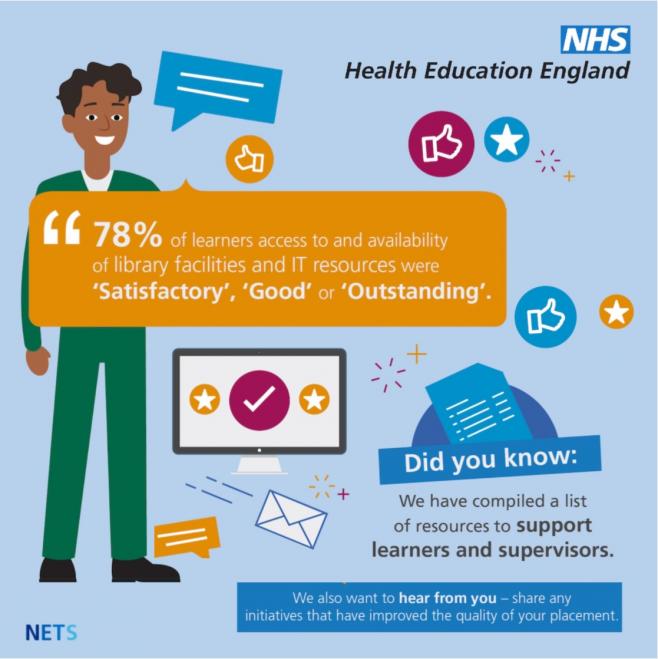 HEE Quality teams will have a particular focus on facilities as they carry out their quality assurance activities and interventions over the coming months, supporting placements to meet expected standards.
Did you know?
Here is a list of useful resources; ongoing projects or guides that may support learners in placement. 
We also want to hear from you – contact us if you want to share any initiatives that have improved the quality of your placement.
All NHS staff and learners have access to NHS Library and Knowledge Services for education, research, and evidence-based clinical practice and patient care. NHS library staff and knowledge specialists can support you through your career.
You also have access to a wide range of online databases, journals and evidence resources including BMJ Best Practice. Access is free with an NHS OpenAthens account.
Register for an NHS OpenAthens account
Forgotten your NHS OpenAthens password?
Your local library and knowledge specialists can provide advice and information literacy training including how to access the resources and search the evidence.
An e-learning programme explaining how to search the literature effectively is also available to help build confidence to search published literature for articles and evidence.
Local library and knowledge specialists can also provide expert searching services and support with keeping up to date with current awareness.
Health Education England helps ensure all that healthcare organisations, staff, learners, patients and carers can find and use the best evidence for care.
Find out more about HEE's work with NHS library and knowledge services