Leading Healthcare Education and Training in the 21st Century Conference
Health Education England is pleased to host a free to access, international conference that aims to connect the global multi-professional workplace educator community.
​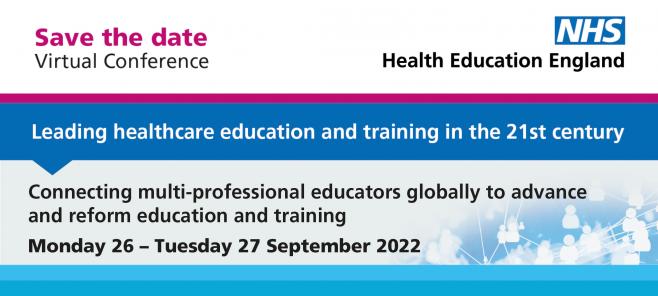 The Leading Healthcare Education and Training in the 21st Century conference aims to:
Outline advances in multi and uni professional education and training within England to support and build momentum (the 'Reform Agenda')
Liberate big thinkers from around the world to participate and share their thoughts and experiences to stretch thinking
Celebrate our achievements to date, working alongside our healthcare partners
Conference topics include:
Technological advancements in healthcare education and training
New and advanced roles
Supporting our healthcare teams
Widening participation and
Enhancing the generalist skills of our healthcare workforce.
Confirmed Keynote Speakers:
Prof Wendy Reid, Director of Education & Quality, Medical Director Health Education England 
Dr Navina Evans, Chief Executive, Health Education England 
Sir James Mackey, Chief Executive, Northumbria Healthcare NHS Foundation Trust 
Prof Eric Topol, Founder and Director of the Scripps Research Translational Institute, Professor, Molecular Medicine, and Executive Vice-President of Scripps Rese 
The conference will be an online event being held across two days, Monday 26 - Tuesday 27 September 2022.