'Equality, diversity and inclusion are underpinning values of nursing education'
7 July 2021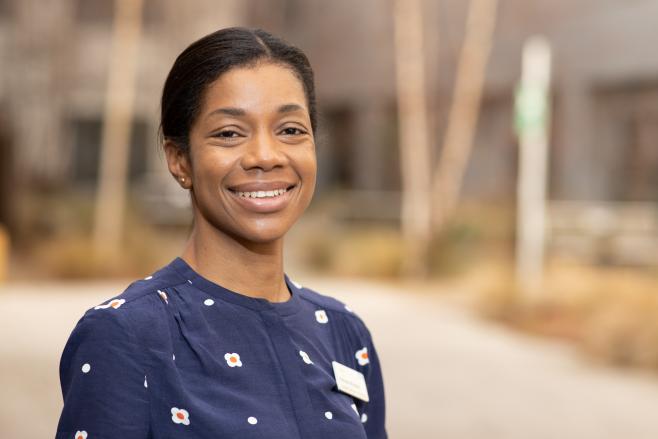 Diversity, equality and inclusion are underpinning values of nursing education. Nichole McIntosh, Regional Head of Nursing and Midwifery for Health Education England (HEE) in London sets out the organisation's commitment to delivering these values in a piece written for Nursing Times.
Equality, diversity and inclusion (EDI) is the golden thread running through all aspects of the education of our future nursing workforce as well as through all the educational programmes of our current workforce.
HEE is committed to ensuring that we deliver the nursing education goals set out in our mandate from the Department and Health and Social Care - to progress the 50,000 nurses programme and also to widen participation in education and training by positively encouraging diversity in the workforce and supporting opportunities to progress.
Nursing leaders need to acknowledge that we have been talking for some time about the need to improve the EDI agenda in the NHS and in nursing, in particular. Improvements have been made but there is more for us to do.
Work to improve the experiences and outcomes of staff from ethnic minority backgrounds has been very slow paced and not far reaching enough. To deliver first class patient care, we need to take all our people with us, and we can only do this by being open about the challenges and acting in an open and transparent way. We need all nurses, of all disciplines to feel valued, engaged, empowered, and enabled to achieve their full potential in the NHS regardless of background. No one should be left behind.
Let's be frank, if you talk to staff from minority ethnic backgrounds, it is hard to hear that they still feel unsupported and undervalued in comparison to their white counterparts. "Talk is cheap", some have said. We cannot carry on like this, there is too much at stake – inequality and discrimination leads to poor patient outcomes and disenfranchised staff.
To achieve a diverse and inclusive workforce we need to offer opportunities to our colleagues from Black, Asian and ethnic minority backgrounds and support them to develop their potential. So, what is HEE doing as an organisation to improve diversity, equality and inclusion in nursing education?
HEE gathers and publishes its NHS Workforce Race Equality Standard (WRES) data. We have continued to make progress across WRES domains in 2019/20 and representation within the organisation is rising, however the data still shows under-representation of Black, Asian and ethnic minority backgrounds colleagues at management and senior levels within HEE and more work to be done to bring levels of representation up to match those in the communities we serve. We are considering our recruitment and progression processes and whether they adequately support the career development of Black, Asian and ethnic minority colleagues and there is a commitment from the HEE executive board to improve and regularly review our performance against the WRES measures.
We have partnered with the Florence Nightingale Foundation to develop a leadership programme for nurses and midwives who are descendants of the Windrush generation or working within their communities. To date more than 200 nurses and midwives have started their leadership journeys through this programme.
Through the Mary Seacole Awards, we support nurses and midwives to undertake specific health care projects, educational or development activities that benefit and improve the health outcomes of people from Black, Asian and ethnic minority communities.
We have also worked with the Nursing Times to develop student and workforce awards for best diversity and inclusion practice.
In addition to this, we are talking to the people we work with and for, through our People's Advisory Forum (PAF) which ensures that the voices of the public, patients and carers are central to our work and decision-making. We are also bringing together student nurses and midwives at various points in their learning programmes from across all seven regions for a student shared decision making council to get feedback from our learners on the frontline and work this into our policy and processes.
As we reset and recover, now is an opportune time to "walk the talk" and deliver tangible actions and improvements for our diverse people, given the disproportionate impact of the pandemic on staff from ethnic minority backgrounds. It benefits all people for us to show, beyond a reasonable doubt, that we are committed, dedicated and determined to improve the experiences of all nurses, including those from a minority ethnic background.
The challenge to improve the EDI agenda in nursing education is for all and all key stakeholders, approved educational institutions, providers in all settings, integrated care systems (ICSs), arm's length bodies, including Health Education England and NHS England and Improvement, have a critical role to play in ensuring that EDI remains a key priority in all programmes of work. This will inevitably require an innovative approach that is responsive to the wide-ranging needs of their local diversity profile. There can be no one size fits all to this challenge. We cannot even attempt this as an approach. EDI is nuanced and there needs to be co-production of innovative and culturally sensitive and appropriate solutions to address the "wicked problem" of improving the experiences that have been well documented.                                      
If you are from a majority i.e. white background, we need your support to ensure that where improvements are not being made, you act as allies to keep the focus on EDI.
Time to act is now. Let's not waste it.