'We need a workforce that reflects the communities we serve'
7 November 2022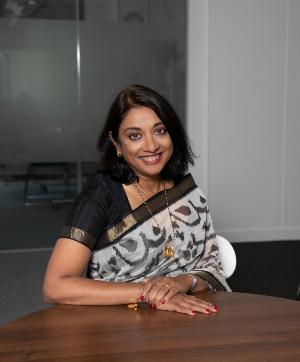 Two weeks ago, as part of National Care Leavers Week, I was delighted as Chief Workforce Officer for the NHS and Chief Executive of Health Education England to sign up to the Care Leaver Covenant on behalf of all NHS organisations. This is an important part of our commitment to provide support for more than 10,000 young people who leave care in England every year.
There are over 350 different NHS careers, and everyone makes a difference every day. Our commitment to widening participation is about increasing opportunities for people from a diverse range of backgrounds in higher education and healthcare. It is important that those with the potential to become excellent healthcare professionals regard it as a viable option, regardless of their background.
Working together with colleagues in government and local authorities, we look forward to building a workforce that is diverse, inclusive with career paths for all, by supporting care-experienced people to build their confidence and access the best possible opportunities.
By signing the Care Leavers Covenant, the NHS is committing to ensuring that the care experienced community have improved access to employment, education, and training in the NHS.
From 2023, we will be leading a programme that supports care leavers to access a career in health with an aim by 2024 to supporting at least 1,000 individuals, to join our NHS family.
In our first year we will be working with 10 integrated care boards to help us design a supportive framework and develop the approach, and by 2024 we will want to have coverage across all 42 integrated care systems (ICS) in England.
This is a vital step forward as we know we need a future workforce that is bigger and more flexible. It is important to make the investments we need today to shape the care we will need to deliver tomorrow.
Over recent years, Health Education England has worked hard to build accessible employment, education and training routes including apprenticeships, volunteering, and widening access and participation programmes.
In this year alone we have…
Worked with employers, training providers and others, to deliver over 100,000 NHS apprenticeship starts
Continued to work in partnership with the Prince's Trust to deliver an employability programme. Over 1,700 young people, aged 16-30, have been offered jobs, with over 1,300 gaining employment within the health and care sector.
Supported more than 500 students with learning disabilities through internship courses via Project Choice.
This care leavers programme builds on a legacy of widening access and participation.
New career paths like that from care assistant through to registered nurse via the Nursing Associate programme are becoming a well-travelled path and have a profound impact on our ability to widen participation in our professional clinical workforce.
Medical doctor degree apprenticeships are another career pathway, which gives individuals a new route to train as a doctor whilst offering NHS organisations the opportunity to grow their future medical workforce.
In the history of the NHS, we have not seen as many non-traditional routes into an NHS career as we have today… all aimed at enabling young people to unlock the potential that lies within like those who are with us here.
As I think about the five intended outcomes of the care leavers covenant, that care leavers:
are better prepared and supported to live independently
have improved access to employment, education and training
experience stability in their lives and feel safe and secure
have improved access to health and emotional support
achieve financial stability.
I believe that together we can enable care leavers to build confidence, attainment and much more in these five areas.
I am seeking support from partners across the health and care sector to help care leavers to really articulate and demonstrate what their skills are so they can thrive in an NHS career. Tackling health inequalities and the disparities that exist in our communities is at the heart of everything the NHS does, and together we have a key part to play in promoting equity of access to the employment opportunities that the NHS has to offer.
Best wishes
Navina
Dr Navina Evans

Chief Executive 

Health Education England
This Page was last updated on:
7 November 2022