Emerging careers and technological advances in our NHS
13 August 2018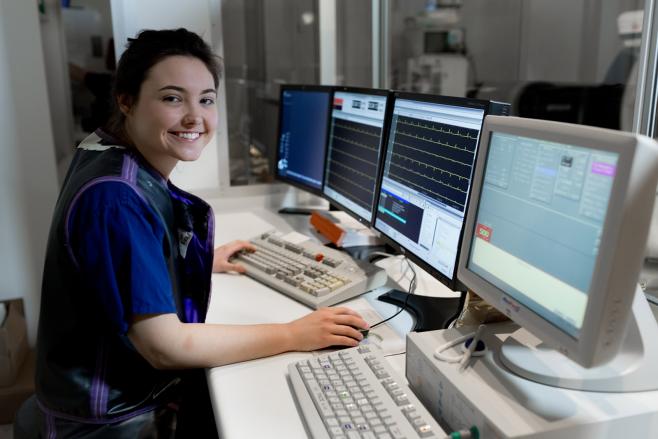 Following the 70th anniversary of the National Health Service last month, Patrick Mitchell, Health Education England's (HEE) Regional Director for the south, looks to its future with the emergence of new healthcare sector careers and an NHS that is changing with the times.
There are currently over 350 careers available in the NHS which provide opportunities whatever a person's background, previous work experience or qualifications. The NHS must continue to look forward and adapt so that it has a workforce suitable to meet future healthcare needs and advances in technology. Health Education England is working with healthcare colleagues, Higher Education Institutions, Royal Colleges and other key partners to consider what new careers, education and training will be required to ensure we have an NHS workforce equipped for the future.

Below I touch upon some of the important current, new and emerging careers, as well as key work that will help shape the future of education and training in the NHS.

Developments in careers in nursing

Nursing campaign

Nursing is one area that has evolved significantly over the years and continues to adapt to the changing needs of patients in our ever-changing society. Today, nurses have more autonomy than ever and can work in a range of settings, which makes now an ideal time to raise the profile of such an exciting and rewarding career. In July, to coincide with the 70th birthday of the NHS, the biggest recruitment drive in NHS history was launched, with an initial focus on nursing, which with midwifery makes up the largest part of the workforce.

This joint campaign, launched by NHS England, the Department of Health and Social Care, and Health Careers (part of Health Education England) highlights the vast range of opportunities available for potential new recruits and prioritises key areas including mental health, learning disability, community and general practice.

With such a huge number of careers available in the NHS overall, the overarching campaign aims to increase positive perceptions of the NHS and to inspire young people and others who are looking for a career change to come and work here. Primarily targeting young people aged 14-18, it aims to increase the total number of applications into the NHS by 22,000, double the numbers of nurses returning to practice and improve retention of staff in all sectors. Find out more about the campaign on the Health Careers website or by following the hashtag #wearethenhs on social media.

New nursing associate role

HEE has recently introduced the new nursing associate role, which bridges the gap between healthcare support workers and graduate registered nurses. The role has numerous benefits for individuals and organisations alike as it supports the career progression of healthcare support workers, increases the supply of nurses into registered nursing by providing another route into a nursing degree, and frees up registered nurses' time – allowing them to use their skills and knowledge to focus on complex clinical duties and take a lead in decisions on the management of patient care.

At the south Local Education and Training Board (LETB) meeting in July, 1110 nursing associate training places had been requested by 14 areas from across the south. The training sites, known as partnerships, bring together a wide range of organisations including educational institutions, care homes, acute, community and mental health trusts and hospices, representing the variety of places where nursing associates will provide care for patients. You can read more about the nursing associate role on our website. For more information, email Samantha Donohue in HEE's national nursing team.

Other emerging careers

Medical associate professions

The NHS has seen the emergence of new professional roles working within multi-professional teams as part of the continuing drive to provide safe, accessible and high-quality care for patients.

In particular, four new roles are becoming an increasingly important part of the healthcare team across hospital and community services. Each medical associate profession is trained in their specific role to provide patient care under the supervision of a doctor. This releases additional time for doctors to focus on more complex patient issues.

Physician associates have completed a generalist medical education. They are trained to perform a number of roles in both hospital and general practice including: taking medical histories, performing examinations, analysing test results, managing and diagnosing illnesses under the supervision of a doctor.
Advanced critical care practitioners (ACCPs) are experienced healthcare professionals and a crucial part of a service led by a consultant. They treat a range of adult patients, making high-level clinical decisions on their care. They take medical histories, examine patients, undertake investigations, liaise with specialist teams across health and care, diagnose disease and other conditions through tests on blood and other fluids.
Surgical care practitioners are registered non-medical practitioners who have completed a Royal College of Surgeons accredited training programme. They work as a member of the surgical team and are able to perform surgical intervention, pre and post op care under direct supervision of the consultant surgeon.
Physicians' assistants (anaesthesia) have completed a post-graduate diploma which is recognised by the Royal College of Anaesthetists. They work in an anaesthetic team under the direction and supervision of an anaesthetist. They perform a number of anaesthesia-related roles including: pre-and-post operative assessment, general anaesthesia and procedural sedation procedures, and resuscitation.

HEE and its members of the Medical Associate Professions (MAP) Oversight Board, together with NHS England, the Academy of Medical Royal Colleges for both England and Wales, and the General Medical Council, support statutory regulation of all four roles as a single group to realise the full potential of these roles to continuity of safe care in medical teams. All have responded to the Department of Health (DH) consultation held in 2017 on proposals to consider regulation of the four roles.

Whilst we await the outcome of the consultation, HEE's MAP Oversight Board priorities for the MAP programme in 2018 are to: develop a career framework for all four MAPs, undertake targeted communications and marketing activity with key stakeholders to raise the profile of the four MAP roles, curriculum and professional development, exploration of the appropriate medicines mechanisms for each MAP role.

Rotating paramedics

The rotating paramedic model supports a 'win-win' situation for primary care and the ambulance service with the potential to generate improved outcomes for each contributing organisation. The project aims to build a new model of care, capable of strengthening the wider health economy whilst retaining enough flexibility to address local demographic need. Building on the achievements of the Paramedic Evidence Based Education Project (PEEP), the model offers a real opportunity for the development of the paramedic profession, in particular to fully utilise the skill set of specialist and advanced paramedics.

The model aims to maximise the unique skill set of paramedics to improve patient care and relieve pressures on primary care, ambulance services and other parts of the NHS in a sustainable way. The starting premise for this new model of care is provision of the right response to each 999 call or primary care contact, first time. The most appropriate response may not be an ambulance resource, so a robust and joined-up community team is fundamental.

The project aims to develop the paramedic workforce to address workforce pressures in primary care and deliver an integrated workforce model across healthcare systems. The rotational way of working has the potential for significant and sustainable system benefit, allowing healthcare providers to join up services and provide safer, more effective standards of population health.

Apprenticeships

You may recall that a few months ago, I wrote my blog on the subject of apprenticeships so there is more detailed information there.

Apprenticeships offer structured training with an employer and lead to nationally recognised qualifications. Apprenticeships also provide a route into hundreds of different careers, including many in organisations providing NHS healthcare.

Apprenticeships can take anything from one to four years to complete and are open to anyone from the age of 16. There are hundreds of different jobs in health, public services and care covered by apprenticeships. Additional information on the apprenticeship programme, including a useful video, can be found via the following link.

HealthTec in Aylesbury

I was recently invited to Aylesbury to join in with some NHS70 celebrations within Health Tec, based at Buckinghamshire College. Health Tec is a relatively new learning environment set up only last year and funded by Health Education England. It creates the perfect environment to enable local schools to offer an engaging, interactive learning experience for their children.

Under new proposals put forward by the government, all school children in England will have to learn first aid, with primary school children being taught basic first aid and secondary school children learning life-saving skills such as CPR and the purpose of defibrillators. As I saw first-hand, Health Tec is already offering lessons in this critical skill.

As I joined local school children from nearby Grange School, who were undertaking CPR training, I was also very impressed by the maturity of the young people taking part and their understanding of the NHS and the roles within it. This sort of project is definitively the way forward for HEE and we will be looking to pursue more collaborations of this nature in 2018/19.

Digital advances

The Topol Review, led by cardiologist, geneticist, and digital medicine researcher Dr Eric Topol and delivered by HEE, is exploring how to prepare the healthcare workforce, through education and training, to deliver the digital future. This will enable NHS staff to make the most of emerging and developing technologies such as genomics, digital medicine, artificial intelligence and robotics to improve services and help ensure a sustainable NHS. We are already working to build a digitally ready workforce, with the confidence to make intelligent use of data, information, knowledge and technology. Careers and career pathways will need to evolve in step with the new technologies as they emerge; for example, the NHS will need clinicians to be educated in the ethical standards and good practice of working with AI, best practice in data curation and governance and the interpretation of clinical statistics and recommendations generated by AI systems.

The Topol Review marks a historic opportunity for the NHS to learn from research, innovation and best practice in digital technologies for healthcare, while considering the implications for the education and training of its workforce. The interim report has now been published and we are looking for further evidence to inform the final report's recommendations for measures to support emerging and changing careers within the health service. You can submit evidence here.
It's an exciting time for the NHS as it is clear through this work outlined above that we are laying a strong foundation for its future. The continued joint work in this field is essential if the NHS is going to be capable of responding to future healthcare needs as well as engaging generation z who are entering the workforce as highly skilled digital natives.
There are opportunities that we can seize, such as working with the 'expert patient', many of whom want to play a vital role within their own care and working with unpaid carers to support them and join up the care they provide with that of the paid health and social care workforce.
The key to much of this work is embracing change, listening to feedback and working in partnership. This is the time for us to look forward to the next 70 years of the NHS and all the exciting developments that are on the horizon.