My Experience on HEE's Graduate and Student Placement Scheme and What #BreakTheBias Means to Me, a Blog by Laura Gifford
11 March 2022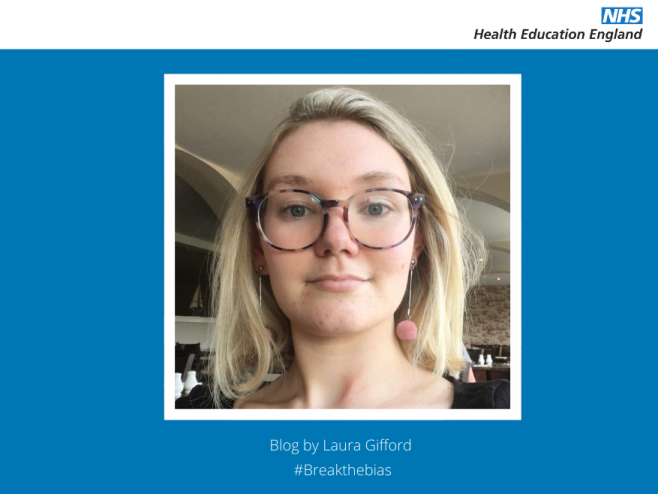 HEE has just opened its application window for the Graduate and Student Placement Scheme and is looking for a number of individuals to join HEE for a period of 1 year in many different areas of work and locations within the organisation.
To celebrate Women's History Month and International Women's Day, Laura Gifford shares her experience on the placement scheme and why it is so important to #BreakTheBias.
Hi everyone! I'm Laura. I'm a politics and economics student and I'm currently on the graduate and student placement scheme in the London Workforce Transformation team. I largely work in the Mental Health team within Workforce Transformation, which is perfect for me because I have a particular interest in mental health.
I've really enjoyed the placement scheme so far! I've found that there are so many opportunities to gain knowledge and skills. You can really make of it what you want. It's been such a valuable experience.
I've also had the chance to work on a really great project during my placement. I've been working on case studies of Mental Health Advanced Clinical Practitioners (ACPs). This involves finding people willing to take part, interviewing them, and then writing up their experiences working in ACP roles in mental health. It's been fascinating to learn about all the different mental health services out there – including, for example, services for homeless people. Before my placement, I never knew this service existed and yet, it makes complete sense!
While thinking about International Women's Day, I realised our mental health team in workforce transformation is predominantly made up of women. It's interesting, but this sort of feels like a bias in and of itself. Of course, it's possible that more women tend to apply to these types of roles, but it could also be due to gender biases around women and mental health. Stereotypically, women might be considered more likely to develop mental health problems during their lifetime and might be seen as being more likely to talk and be open about their mental health issues. Whereas men are seen, and expected, to be more stoic on the subject – which I think must stigmatise men speaking out and continue the cycle of silence in men's mental health.
Although it is lovely to work with lots of women, I do think it would be good to have more men working in mental health. We need male voices regarding mental health because we need to hear all voices regarding mental health, from all backgrounds and genders. I know when I was working on the case studies with Mental Health ACPs, I made sure to try and speak with both men and women, with the aim of being as representative as possible.
This year's International Women's Day theme of Break the Bias is also really important to me. I've worked to break the bias by trying to pursue the things I'm interested in and not tell myself I can't do something. It's about building confidence.
I'm studying politics and economics at university, and economics is a very male-dominated field, but I work hard not to let that bother me. I previously went to an all-girls school that really focused on empowering women and I think that was a great formative experience for me to have.
I think gender bias and bias in general is extremely important to talk about. I've felt very supported at HEE, and everyone has been incredibly helpful. I've not experienced any instances of bias while working here but I have felt gender bias in my everyday life.
The advice I would give to the rest of the graduate and placement students on breaking the bias is: persistence. It's important to take and pursue the opportunities you want to. If someone tells you that you're not capable of doing something, then ask them why. Make sure to question their view.
Sometimes, I might wonder – especially being fairly new to HEE and still a student – if my voice is worthy of being heard. But of course it is! It's easy to think this way, but it's good to put yourself out there and get your perspective heard.
I think it's also important to keep on encouraging diversity and inclusion. One way to do this is to share opportunities for development and ensure that there is equality of access. It's incredibly important to level the playing field for everyone.
I've personally found that I've learnt so much from the webinars I've attended at HEE – especially those that were set up for Black History Month.
I think what's been great about HEE is how it celebrates events like International Women's Day and Women's History Month. I've always been aware of International Women's Day but in the previous environments I've been in, it was never really acknowledged or celebrated. I think it's great to see it, as well as events like World Mental Health Day being marked by HEE.
Finally, I think the most important thing to aid improvement and to break the bias is to share as much as you can. It's important to keep communication as open as possible. Share your knowledge and experiences because there will always be at least one person who will benefit from hearing it.
If you're interested in applying for HEE's Graduate and Student Placement scheme, please click here to apply. Applications close 20th March 2022 at 11.59pm.
This Page was last updated on:
11 March 2022