Sam Nunn - my placement experience half-way through
16 February 2021
I have now passed the halfway stage of my placement and am heading into my sixth week of an eight-week placement. These past few weeks I have been set my own individual tasks to carry out as well as attending meetings with various professional bodies and AHP's.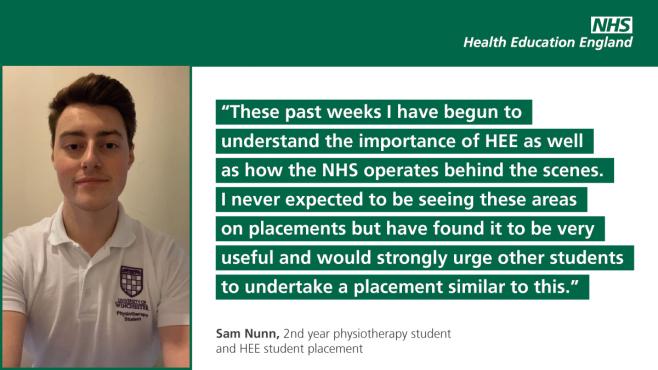 These past weeks I have begun to understand the importance of HEE as well as how the NHS operates behind the scenes. I never expected to be seeing these areas on placements but have found it to be very useful and would strongly urge other students to undertake a placement similar to this. It can help open new doors and new perspectives that many wouldn't be aware of. My confidence speaking in large groups has vastly improved and the benefit is that this skill is transferable when I need to speak to patients, face to face, twice a week at Forton Medical Centre.
So far throughout this placement we have been following the progress of a research project about finding out why individuals go down their certain routes into AHP careers. A webpage has created on the HEE website that has details about the project. The questionnaire will help to identify the barriers in place stopping people from going into certain professions. All of this will help respond to the NHS 2019 Long Term Plan of increasing the AHP workforce as well as helping to improve the quality and quantity of AHP. We want to help support the small and vital professions that may not receive a high number of applicants to their university courses each year. To spread the word of this project, myself and Lucy have been in contact with individuals from each profession to ask for support and ways they can help generate interest and attention to the questionnaire. We have also spoken to members of the 150 leaders through a focus group to discuss ways to increase attention for the questionnaire.  
It has been an incredible journey so far and I am looking forward to seeing the outcome of the questionnaire.