Awards event celebrates apprenticeship achievements as the region gets set to more than double apprentice numbers
19 March 2015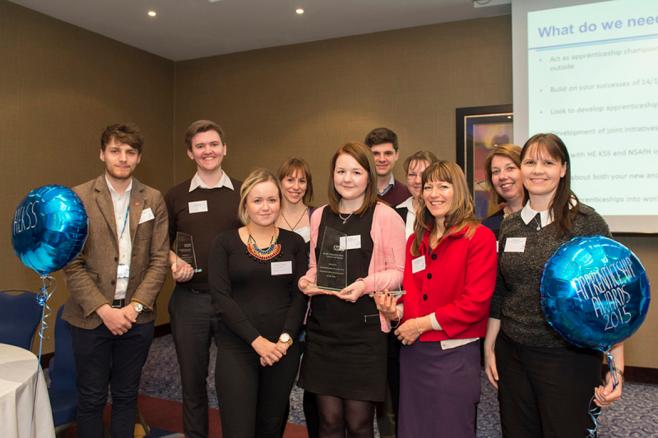 Apprentices and the trusts developing apprenticeship schemes across the region came together to celebrate accomplishments and learn from each other at the Health Education Kent, Surrey and Sussex Apprenticeship Awards on 9 March 2015.
Apprenticeships are a vitally important way of ensuring a steady flow of high calibre new entrants to health and care roles with the right skills and values of compassion and care. The HEE target for apprenticeship starters in Kent, Surrey and Sussex in 2015/16 is 1373, up from 549 this year.
One of the aims of the awards and event was to bring to life the benefits of apprenticeships and the value that these apprentices could bring to services to organisations that have not yet developed their own schemes.
One apprentice said:
I've learned that an apprenticeship is another pathway into a possible life-long career and a viable alternative to university. The skills you learn not only serve you well in your professional life but also in your personal life.
A healthcare trust manager commented:
By also being able to train our apprentices and on their successful appointment following the trust's recruitment process to a permanent post within the trust, we are able to have staff who are effective from day 1 of their permanent placement. This therefore has enabled the trust to reduce its costs in terms of supporting new staff to reach competence and has had a positive impact on the service to our patients.
Around 80 event attendees heard more about the regional apprenticeship programmes and other initiatives to help young and disadvantaged people get into health and social care sector jobs such as Project Search and Inspiring the Future. There was also a lively marketplace of stalls hosted by the National Skills Academy for Health, Sussex Education Business Partnership, Princes Trust and the National Apprenticeship Service, among others. Guest Speaker Philippa Spicer, KSS LETB Local Director gave the audience a concise update on the apprenticeship programmes currently taking place in the region
Before the awards, attendees also had the chance to explore in depth the experiences of six trusts that provide apprenticeships in discussion with managers and apprentices from:
East Sussex Healthcare NHS Trust
Royal Surrey County Hospital NHS Foundation Trust
Western Sussex Hospitals NHS Foundation Trust
Kent and Medway NHS and Social Care Partnership Trust
Medway Community Healthcare
East Kent Hospitals University NHS Foundation Trust
The awards were presented by Anne Clarke, Director for Wales/Regional Director England (South), Skills for Health, Robert Smith, Excellence Centre Coordinator – Kent, Surrey & Sussex, National Skills Academy for Health and Mike Bailey, Career Progression Programme Manager, HEKSS.
The awards celebrated the many apprentices who had achieved above and beyond what would be expected of them, including educational accomplishments, having an impact beyond their primary responsibilities and being a role model for others. The employer of the year awards recognised trusts that had developed particularly robust processes for developing apprenticeships and for providing additional support to help apprentices find employment.
Mike Bailey, HEKSS Career Progression Programme Manager, who led the event said:
Apprentices are making a fantastic contribution to health and care across the region. The event highlighted the tireless work many of the trusts in the region have been doing with the National Skills Academy for Health to increase the number of new and existing staff accessing apprenticeships. There is a real recognition of the valuable impact these programmes have on developing the health and care workforce.
HEKSS is currently developing apprenticeship plans for 2015/16 with providers and rolling out further rotational apprenticeship programmes across health and social care. Plans are also being developed to implement apprenticeship initiatives with Clinical Commissioning Groups and for pre-employment programmes with GP surgeries linked to apprenticeships.
For more information on the HEKSS Apprenticeship Awards or the apprenticeship programme in Kent, Surrey & Sussex please contact Madhu Meshram, Education & Training Facilitator mmeshram@kss.hee.nhs.uk or Robert Smith, Excellence Centre Coordinator – KSS, National Skills Academy for Health Robert.Smith@nsahealth.org.uk.
Award winners
Level 2 Clinical Award: Dean Well, Western Sussex Hospitals NHS Foundation Trust
Level 2 Non-Clinical Award: Winner - Matthew Woolgar, Western Sussex Hospitals NHS Foundation Trust | Runner-up - Rebecca Long, Central Surrey Health
Level 3 Clinical Award: Winner - Leah Haines, Medway Community Healthcare | Runner-up - Shauna McFarlane, Medway Community Healthcare
Level 3 Non-Clinical Award: Winner - Jenna Vincent, Western Sussex Hospitals NHS Foundation Trust | Runner-up - Joshua Reader, East Kent Hospitals University NHS Foundation Trust
Ambassador of the Year Award: Isabel King, East Kent Hospitals University NHS Foundation Trust
Employer of the Year Award: Winner - Medway Community Healthcare | Runner-up - Western Sussex Hospitals NHS Foundation Trust | Runner-up - East Kent Hospitals University NHS Foundation Trust