Blended learning offers flexibility to train our future healthcare workforce
5 April 2022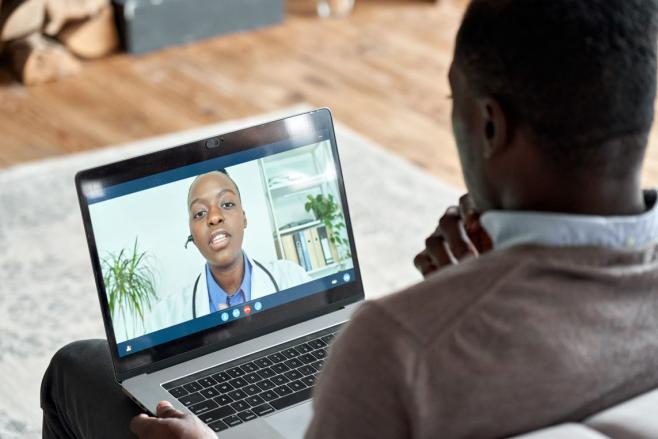 Health Education England (HEE) has today launched a comprehensive guide to blended learning for undergraduate multi professional education in healthcare.
The guide has been developed after the success of the blended learning nursing degree that HEE delivered two years ago to promote alternative routes into nursing by establishing a blended learning nursing degree programme. This combined digital, face-to-face and practical learning, that maximises the opportunities to provide a fully interactive and innovative programme, and long term benefits to patients.
Since this successful programme there has been a surge in interest from other health professional areas and it has since been extended to include midwifery, medicine, and critical care nursing, with opportunities to extend into other areas of healthcare education.
This new learning approach means the NHS and partners can widen access and participation for healthcare training and education and promote diversity and inclusion in the workforce.
Minister of State for Health, Edward Argar said:
"I am proud to support the use of blended learning approaches in training and upskilling our dedicated NHS staff.
"We are committed to strengthening the NHS with a bigger and better trained workforce, including 50,000 more nurses which we are on track to deliver. Innovative approaches to training the NHS workforce of the future - such as blended learning - are vital to ensuring we fulfil this ambition."
Dr Navina Evans, Chief Executive, Health Education England said
"HEE's blended learning approach applies current and emerging innovative technologies whilst attracting a wider range of potential students who may have to balance study with other commitments such as having a young family, a caring role, or based remotely. This will ultimately support the growth of an adaptive, expert and professional workforce that is prepared for the demands of 21st Century patient care. I am proud that these programmes will benefit both our learners and the population of England as we look to the future."
Patrick Mitchell, Director of Innovation, Digital and Transformation, Health Education England said:
"This report highlights just how much has been achieved in a relatively short period of time and shows the huge benefits it has in health professional education.
This use of blended learning in educating and training future and current health professionals will fully embrace new and emerging technologies to ensure educational outcomes, including the development of strong digital capabilities to deliver quality and safe 21st century care"."
The publication of this report celebrates the significant collaborative achievement made in Health Professionals' education and training by various system partners over the last two years but also highlights other areas of ongoing work which HEE is absolutely committed to addressing in partnership with key stakeholders, to ensure that full benefits of the blended learning approach is realised. 
https://www.hee.nhs.uk/our-work/blended-learning
For information about Blended Learning at Health Education England (HEE) email blended.learning@hee.nhs.uk