Film aims to inspire the next generation of Community Nurses
14 January 2020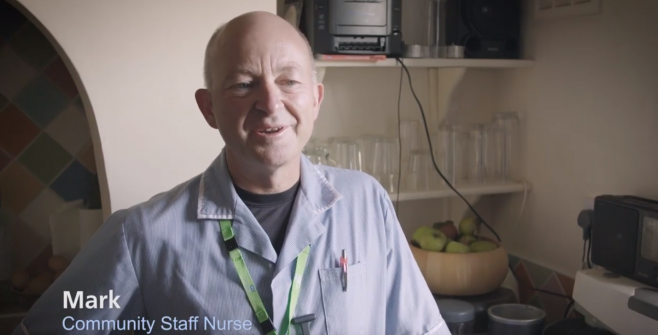 A new film showcasing the important role community nurses play providing expert care for people and aimed at encouraging more people to consider a career in community nursing is launched today.
The inspirational film produced in partnership by Health Education England (HEE) and The Queen's Nursing Institute (QNI) highlights the wide range of expertise, leadership and care that nurses provide to people in communities across the country ranging from end of life care, homeless healthcare to running cardiac rehabilitation classes.
Mark Radford, Chief Nurse, Health Education England said:
I am delighted we are able to launch this fantastic new film that puts the spotlight on the  role our community nurses play in supporting people. Its release is very timely as we celebrate the World Health Organisation (WHO) Year of the Nurse/Midwife as Team CNO.

Community Nursing is a challenging, interesting and rewarding career option that can sometimes get overlooked as a great career after qualify as a nurse. Health Education England is committed to doing all it can to raise the profile of the variety of roles and help boost numbers in community settings so this film is a great reminder of what the roles offer not just to patients but their families too.
Dr Crystal Oldman CBE, Chief Executive of the QNI said:
I am delighted that have been able to shine a light on the incredible work of community nurses today. So often we hear that the work of the community nurse is not well understood. I invite you to watch this new film and be inspired by the outstanding, compassionate care you see being delivered in the community today. There are some very powerful scenes in the film and I am very grateful to all of the nurses and patients who took part and shared their experience so generously.
Ruth May, Chief Nursing Officer, for England, said:
Community nurses are a vital part of the team and I would encourage anyone wanting to experience a varied and fulfilling career to join this exciting profession.

As we enter the Year of the Nurse and Midwife, I'm reminded time and time again that becoming a nurse was undoubtedly the greatest decision I ever made, and with one of the highest degree employability rates, now is the perfect time to join the NHS as a community nurse.
Liz Alderton, a Queen's Nurse who features in the film, said:
We need attract more people into these exciting roles and I am absolutely passionate about the care that our teams deliver to patients in the community. It is a privilege to be able to support people to manage their own health at home. We need more people to look at community nursing and see what it offers, both for patient care and also for professional development.
The film was shot on location in London, Leeds and Dorset last Summer and follows District Nurses and other community specialists in their working day, visiting patients in their own homes and communities to deliver a diverse range of patient care. The film also shows a cardiac rehabilitation class and a homeless health specialist in action.
To view the film visit https://bit.ly/30jn5m0
 For more information on a career in Community Nursing visit www.healthcareers.nhs.uk