Four influential nurse leaders to strengthen Health Education England's senior Nursing and Midwifery management team
22 October 2020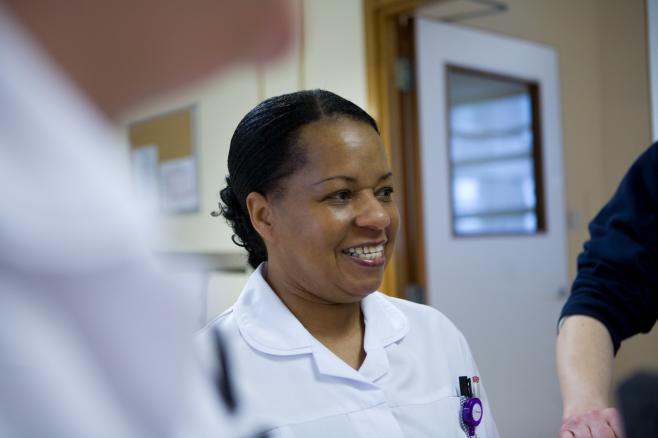 Health Education England (HEE) has today confirmed the appointments of four regional Heads of Nursing and Midwifery, they are 
Carol Love-Mecrow who will head of the Nursing and Midwifery team in the Midlands; 

Christian Brailsford who will lead the Nursing and Midwifery team in the South West; 
Professor Laura Serrant who will lead the Nursing and Midwifery team  in the North East and Yorkshire and: 

Nichole McIntosh who will head the Nursing and Midwifery team in London. 
Working closely with HEE's Chief Nurse, Mark Radford they will play a key role in the development of Nursing and Midwifery policy for this priority area and work to support the Government ambition to recruit 50,000 nurses.  
Dr Navina Evans, Chief Executive, Health Education England said: 
This is fantastic news, I am particularly pleased that our aim to encourage more BAME candidates to apply for  senior roles at HEE is paying off with three out of four successful candidates coming from a BAME background.  I am committed to making HEE the best place to work and making it more inclusive so this is a great step forward in helping to achieve that aim. 

They all bring with them a wealth of experience and expertise and I look forward to working with them to help HEE take forward this priority area of work. 
Professor Mark Radford, Chief Nurse, Health Education England said:
I am delighted to welcome  four  very talented and experienced nurse leaders who will strengthen my senior management team and nursing leadership nationally. 

They will join at a crucial time for the nursing profession as HEE works hard to support the delivery of the Government's nurse expansion ambition and our key programmes of work such as our nursing associate programme, return to practice schemes and work to highlight the attractiveness and flexibility of nursing and midwifery careers that will in turn deliver safe and effective care to patients. 
Ruth May, Chief Nursing Officer for England, NHS England and NHS Improvement said: 
So pleased to see four such exceptional colleagues join the team at HEE. They come at a time when nursing leaders are more vital than ever, at the helm of the covid response right across England.
Carol Love-Mecrow and Nichole Mcintosh will take up their roles next month.  Christian Brailsford starts December and Professor Laura Serrant joins in January. 
About the new regional Heads of Nursing and Midwifery
Professor Laura Serrant OBE PhD MA BA RGN PGCE Queens Nurse 
Professor Laura Serrant will be joining HEE from her current role as Head of Nursing and Professor of Community and Public Health Nursing at Manchester Metropolitan University.  Laura's previous roles in education include Professor of Community and Public Health Nursing at the University of Wolverhampton, and Professor of Nursing at Sheffield Hallam University. Laura has been the Head of Evidence and Strategy in the Nursing Directorate of NHS England, Chair of the BME Strategic Advisory Group for NHS England and a non-executive director of three NHS Trusts including Sheffield Health and Social Care NHS Foundation Trust. 
Laura has an extensive experience in national and international health policy development with particular specialist input on racial and ethnic inequalities and cultural safety. She is one of the BBC panel of Expert women, a Florence Nightingale Scholar, an ambassador of the Mary Seacole Memorial Statue and the Equality Challenge Unit Race Equality Charter for Higher Education. 
Her work has been recognised with numbers awards and prizes, including Queens Nurse status and Fellowship of the Queens Nursing Institute. She was listed as the 8th most influential Black person in the UK by the Powerlist 2018. In the 2018 Queen's Birthday Honours, she was appointed an Officer of the Order of the British Empire (OBE) for services to Nursing and Health policy. More recently, she was named in the Health Service Journal 2020 list of the 50 most influential BAME leaders in healthcare. 
Christian Brailsford   
Christian qualified at the University of Manchester in 1996. He then moved to Sheffield where he commenced his career in Critical Care before moving to a senior position with the North Trent Critical Care Network. Christian  has over 15 years of experience working in organ and tissue donation with NHS Blood and Transplant before recently returning to Critical Care and the acute sector, with Sherwood Forest Hospitals.  
Key achievements include, as Research and Novel Transplant Manager for NHSBT leading on the implementation of a number of high profile programmes. Notably, the UK's DCD heart transplant programme and the national QUOD research project.  
Christian's recent acute experience has seen him lead a transformational change programme within Critical Care, resulting in a CQC rating of Outstanding for care and contributing to the Kings Mill's overall rating of Outstanding. He also led the Trust's Critical Care response to the COVID pandemic managing what, proportionately, became the busiest critical care unit in the East Midlands.  
Carol Love-Mecrow  
Carol joined the NHS in 1986. journey in the NHS began in 1986. She started her training at the Dudley and Stourbridge School of Nursing and after qualifying I worked as a staff nurse at Russells Hall Hospital. Carol soon became Junior Sister at the then Wordsley Hospital, on a medical admissions ward. The opportunity to be a Ward Manager came soon after that and in 1999 she returned to Russells Hall Hospital in Dudley.   
Carol's career at Russells Hall Hospital then began to progress outside of the clinical setting and she was appointed into roles such as a Professional Development Nurse (PDN), Lecturer Practitioner, PDN Lead Post Registration, Clinical Education Lead, Non-Medical Education Lead, Head of Non-Medical Education and finally Deputy Chief Nurse.   
Nichole McIntosh  
Nichole has a wealth of experience and proven track record of  leading and delivering change in a diverse range of specialties. She has held many key senior positions including assistant director of nursing, head of nursing, matron, senior nurse and clinical manager for older people and stroke services, frailty and cognitive impairment.  
With significant experience working in London, Nichole is an accomplished compassionate nurse leader with demonstrable experience of improving patient experience and fostering a culture of learning and quality improvement in her previous roles. 
She is also a poet, blogger, vlogger, podcaster, motivational speaker, Fellow of the Royal Society of Arts. Florence Nightingale Scholar and Editorial Advisor of the Royal College of Nursing Institute's Nursing Management Journal. 
Nichole is very passionate about providing high quality patient care with recognised expertise in this area. She uses poetry as a practitioner of healing arts in the promotion of health and wellbeing. Having worked for 2 decades in the NHS, she shares her experiences as a black woman and professional within a culturally diverse sector, giving honest & insightful reflections, in her successful blog: The Human Touch blog which can be found at her website: https://nicholemcintosh.com/