Framework launched to boost maternity care support services
14 February 2019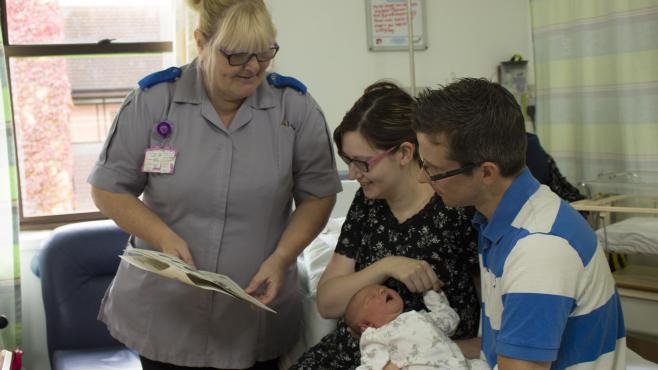 Women and their babies will have access to improved support and safer care thanks to a new resource launched today by Health Education England (HEE) today.
New measures outlined in the first ever comprehensive education and career framework will help the country's thousands of Maternity Support Workers (MSWs) provide better care and support to women and their babies.
HEE has worked with a range of partners including NHS England, NHS Improvement, Skills for Health, the Royal College of Midwives (RCM), Nursing and Midwifery council (NMC), the Maternity Voices Partnership, NHS employers and Unison to delevop the framework which sets out the skills and competences needed to undertake the role, and highlights how MSWs can advance their career.
The framework is the culmination of 12 months' work which included consulting with employers and MSWs in a series of stakeholder events held across the country. Researchers from the University of the West England found that qualifications held by those in support roles frequently exceeded those required for the post and skills were not always used properly or developed.
They spoke to a range of groups including midwives, service leads, healthcare commissioners, education providers and maternity support workers themselves to better understand their roles, aspirations and the challenges they face.
Professor Lisa Bayliss Pratt, Chief Nurse, Health Education England said:
"We recognise the vital contribution maternity support workers make to the delivery of safe and personalised care for women and their babies, however there is wide variation across the country in their education and training and how they are deployed so it is important that the same model of care is used in all areas.

"The framework will help address this  by having a national competency framework for the role.  Better Births, A Five Year Forward View of Maternity Services set a vision for a modern maternity service that delivers safer, more personalised care for all women and every baby, it is our role to make sure that MSWs have the right knowledge, skills, education and training to achieve this vision."
Gill Walton, Chief Executive and General Secretary of the Royal College of Midwives (RCM), said:
"The RCM has been lobbying for this for a number of years so this is an important document and one that we welcome.  It is good news for maternity support workers (MSW) and good news for midwives. MSWs are a crucial part of the maternity workforce, underpinning and supporting the work of midwives and vital to success of transforming maternity services. 

"For too long the training, education and role of MSWs has been inconsistent, haphazard, and different across the country and from trust to trust.  This brings clarity about their role and defines what their training and education should be and the things that they can do in their day to day work. It also offers clear career progression.

"MSWs will I am sure be glad of the focus on their role and the certainty it brings."
The framework gives clarity to the role and sets out the career and skills opportunities available to existing MSWs and those new to the role, which includes access to apprenticeship and pre-registration midwifery programmes from Level  3.
Maternity Support Workers assist with caring for women, babies and their families throughout their maternity journey, working specifically to create safe environments that enhance service delivery and promote the health and wellbeing of those within maternity services.