Health Education England's key achievements showcased with new infographic
12 March 2019
Health Education England's (HEE) key achievements across 2018 - from recruiting the largest number of GP trainees in NHS history, spending an additional £40m to strengthen investment on workforce development (a 50% increase on the previous year) and doubling the intake of the NHS Graduate Management Training Scheme - are being celebrated with the launch of a new eye-catching infographic.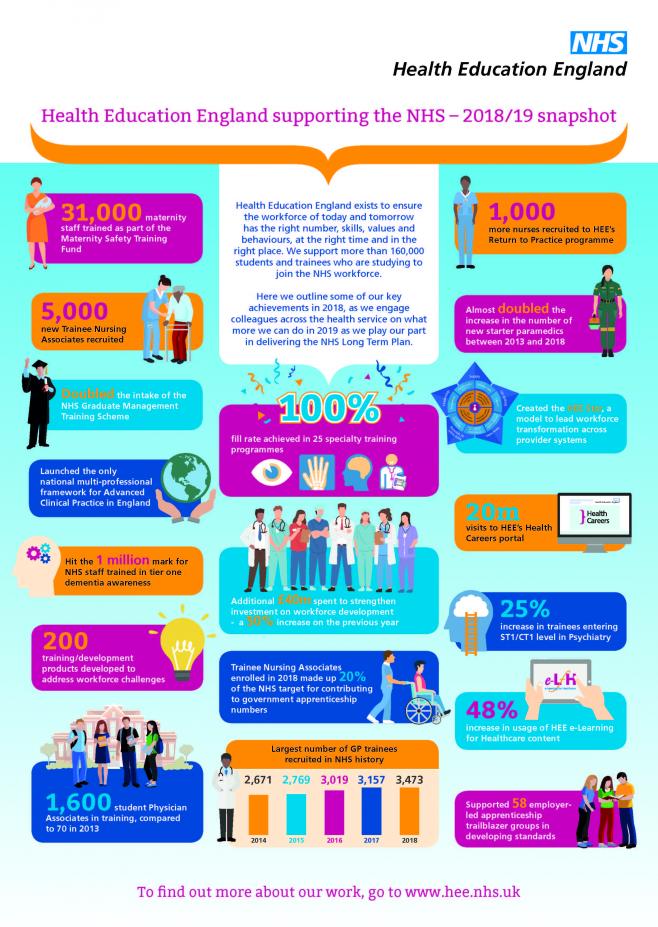 The launch comes as HEE continues to work closely with partners across the system to develop and secure the workforce the NHS needs to ensure patients get the best care possible. The infographic highlights work HEE has delivered to grow the medical workforce; expand the number of nurses, midwives and allied health professionals; support learners and produce a bigger talent pipeline of high quality, compassionate leaders.
Achievements include:
Delivering 100% fill rates in 25 specialty training programmes, launching the only national, multi-professional framework for advanced clinical practice in England, hitting the 1 million mark for NHS staff trained in tier one dementia awareness, recruiting 1,000 more nurses to HEE's Return to Practice programme and recruiting 5,000 new Trainee Nursing Associates.
Ian Cumming, Chief Executive, Health Education England said:
"It's been a fantastic year for HEE. We've recruited the highest number of GP trainees in history and seen milestones reached in the journey of the Trainee Nursing Associate, with 5,000 recruited. Meanwhile the first qualified Nursing Associates entered the Nursing and Midwifery Council register. 
"There is much to be proud of but we know there is more to do, working with our partners such as providers, Universities, Higher Education Institutions, regulators, NHS Improvement, NHS England and many more.
"This year promises to be a challenging and exciting year. As we look back on the huge range of achievements, I am confident HEE will continue to deliver for the NHS, its patients and staff - ensuring the workforce of today and tomorrow has the right number, skills, values and behaviours at the right time and in the right place."
A booklet highlighting a wider range of achievements from HEE, is available to download.