Health Education England and CapitalNurse announced winners at the Nursing Times Award 2022
31 October 2022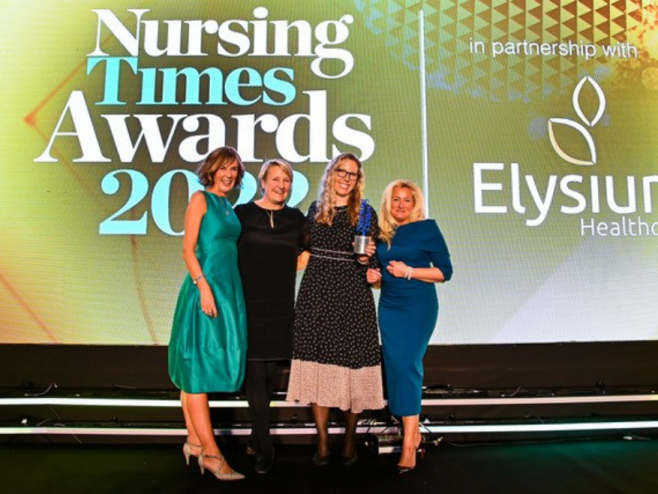 The IV Therapy Passport project, supported by the CapitalNurse and Health Education England (HEE) Tecnology Enhanced Learning (TEL) teams, has won a Nursing Times Award for data and technology in nursing. 
On Wednesday 26th October, The Nursing Times Award brought together the nursing community to celebrate innovate work across 25 categories. Following a rigorous judging process, HEE emerged as the winner of Technology and Data in Nursing for the work on CapitalNurse IV Therapy Passport. 
The Digital IV Therapy Passport is evidence of learning, assessment, and proficiency in IV therapy. On completion, the individual can develop their skills as their role changes and take their passport with them. The passport enhances the delivery of care and the patient experience through access to health care professionals for safer patient care. 
Susie Scott, IV Therapy Passport Project Lead, CapitalNurse, said: "I am absolutely thrilled that the IV Therapy Passport project has won an award in such a specific category. The award recognises the collaboration and challenging work of all stakeholders across London and their commitment to one common approach and the transfer of proficiency with a professional. The use of digital learning technology to achieve this transformation is as pivotal. This is a huge step forward for nursing and midwifery. " 
The judges said they loved that this project is nurse led and were impressed with the transferability and the outcomes of this initiative, which included the time saved by reducing repetitive training. The judges are excited to see the expansion of the initiative into different regions and link into NMC (Nursing and Midwifery Council) core competencies. 
Dr Navina Evans, Chief Executive of Health Education England, said: "I am so please that the hard work and dedication put into the IV Therapy Passport has been recognised by such an honourable award as the Nursing Times. I look forward to further development on the programme and additional enhances to care" 
More information on The Nursing Times Awards and their 2022 winners can be found here. 
This Page was last updated on:
31 October 2022