Health Education England pilot scheme inspires school children to consider a career in the NHS
7 December 2018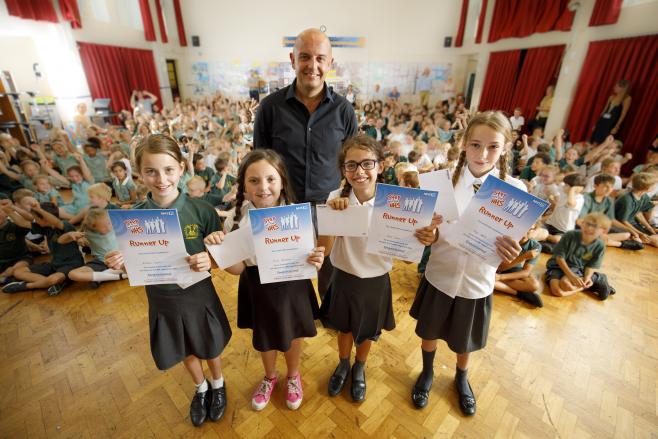 Children as young as six say they will now consider a career in the NHS when they are older thanks to a Health Education England (HEE) pilot scheme, Step Into the NHS, which aims to promote the breadth of careers available within the health service.
Over 2,000 children from 43 primary schools from across England took part in the scheme earlier this year and were provided with a range of educational resources which highlighted the variety of roles the NHS has to offer, from nurses and surgeons, to IT professionals and scientists.
New findings show the scheme, which also included a competition, not only helped to raise aspirations amongst children, but also helped to challenge misconceptions, particularly in relation to gender stereotyping. Key findings include:
49% increase in the number of participating children who said men could work as a nurse
59% increase in the number of participating children who said men could work as a midwife
The number of children aware that healthcare scientist was a role in the NHS increasing from 25% to 81% at the end of the scheme
Following the success of the primary school pilot, Step Into the NHS is now being rolled-out nationally by HEE and is open to all primary schools across England who want to take part.
As well as resources to help pupils explore the wide range of roles in the NHS, how those have changed and their own career aspirations, a key element was a competition which saw primary school pupils say thank you to the NHS by producing a piece of art to celebrate the NHS' 70th anniversary.
The Federation of Greenways in Southend-on-Sea was selected as the winning primary school. Joe Clark, from the Federation of Greenways commented;
It was fantastic that our pupils won two prizes through their competition entries – winning the overall and the regional area prizes.

Our pupils were really engaged with the Step Into the NHS project and it really made them think about their futures. It was fantastic to see the wide variety of jobs available with the NHS, and definitely made our pupils think about roles outside of a doctor or a nurse, with lots of them expressing a real interest in the science side, where they could really visualise themselves in those roles."
The Step Into the NHS 2018/19 competition closes on 31st March 2019 with participating schools in with a chance of winning a £25 or £50 amazon voucher. Entries can take the shape of a piece of art, such as a collage or painting, or a poem or story, with a panel of judges choosing a winner from ten regions as well as an overall national winner.
Professor Ian Cumming, Chief Executive, Health Education England said;
 Step Into the NHS is a great way to introduce children to the NHS and open their eyes to the many careers it has to offer. I'm thrilled with the positive response from teachers, and pupils, involved in the primary school pilot study. The competition proved to be very popular with schools and their pupils and we hope that even more students will be inspired to take part this year now that it is open to all primary schools across England.

Research shows that dispelling myths and stereotypes of professions from an early age can help children consider a range of career options as they get older and by encouraging children in their early years to start thinking about a career in the NHS we can start to build our future workforce. A diverse workforce with the right skills will ultimately lead to a better quality of patient care."
For more information, visit www.stepintothenhs.nhs.uk/primary