HEE celebrates National Apprenticeships Week 2022
8 February 2022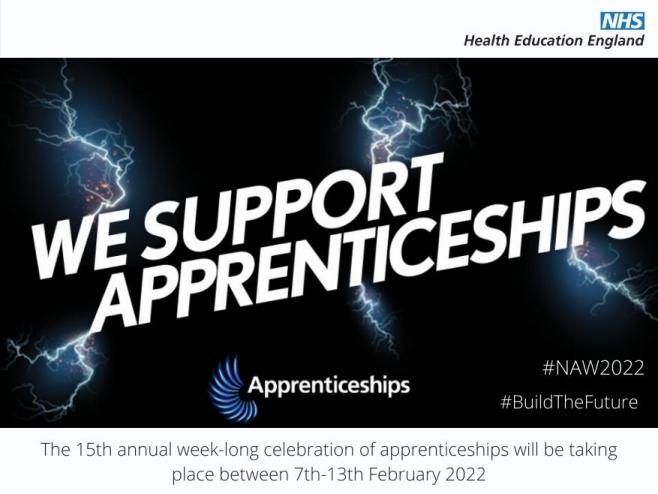 More than 24,500 apprentices started training in 178 different apprenticeship standards across the NHS, in 2020/21 a rise of 20% since 2019/20 and the largest ever number per year.
This week, HEE is shining a light on the positive impact apprenticeships make, providing the opportunity to earn, learn, and make a difference. Our apprenticeships offer routes into more than 350 NHS careers through a mix of on-the-job training and classroom learning. 
Since 2016-17 there has been a 40% increase in higher and degree apprenticeships in the NHS, with 81% of apprentices at level 2 or 3. The most used apprenticeship standard in 2020/21 was Nursing Associate (NMC 2018).
Health Education England continues to develop innovative support for employers to ensure our apprenticeship programme remains on course despite COVID-19. This includes supporting employees in developing their Skills for Life (numeracy, literacy, digital skills) with more than 18,000 learners nationally accessing HEE funded functional skills software.
Emily Lane, Registered Nurse Degree Apprentice said: "I have always wanted to work in healthcare and when I decided that nursing was the career I wanted to pursue, I was not in a position financially to be able to leave my full-time job to go to university. This route was perfect for me - giving me the opportunity to work towards my dream job while still earning a wage and being able to support myself and run a home. Without the apprenticeship, it would have been very difficult for me to pursue my dreams of becoming a Registered Nurse."
Click here to read more stories from NHS apprentices in different roles.
NHS apprenticeships benefit from the Government Apprenticeship Levy scheme, which is set up to distribute funds to industries and the public sector to pay for the training of apprentices.
Companies and organisations are allocated an amount of funding based on a list of criteria. The NHS has £200m from this fund to spend on apprenticeships and other organisations that do not use their full allocation of levy funds, however, can donate it to another organisation and often choose to fund NHS roles.
This year we have facilitated a total of £23 million so far into health and care from private sector employers to fund apprenticeships in roles such as Nursing Associate, Pharmacy technicians and Psychological Wellbeing Practitioners.
This enables more training to be made available to those wishing to enter the NHS, provides opportunities to develop for those currently working in the NHS, and helps to meet current and future workforce needs.
Health Education England's Chief Nurse and Senior Responsible Officer for Apprenticeships, Professor Mark Radford CBE, said: "Apprenticeships are proven to have huge benefits for employers and apprentices alike. Despite the challenges of the past few years, NHS employers excelled themselves last year by supporting 24,500 people into apprenticeship programmes. I'd like to thank them, and all our apprentices, for their important contributions to the NHS workforce.
"The transfer of more than £23 million of apprenticeship money from the private sector to the NHS so far this year is a striking example of how private and public sectors can work together to support our brilliant NHS during these times."
Are you interested in an NHS Apprenticeship? Look through our live vacancies.
You can find out more about NHS Apprenticeships here.
This Page was last updated on:
8 February 2022