HEE celebrates NHS apprentices during National Apprenticeship Week
4 February 2020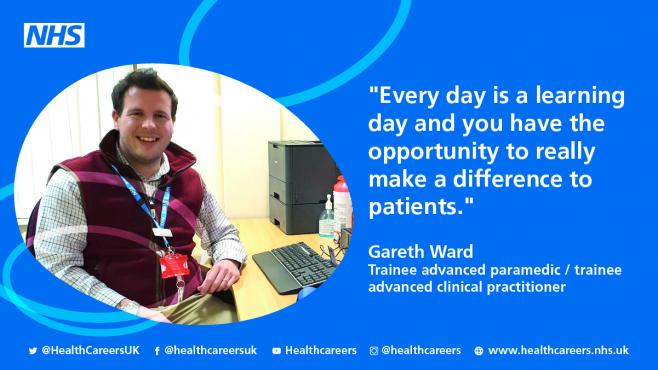 Health Education England is marking National Apprenticeship Week by paying tribute to the contribution apprentices make across the NHS.
NHS apprenticeships involve structured training and lead to nationally-recognised qualifications, offering career progression and a route into hundreds of different roles.
Apprentices can learn as they earn at any age, in the workplace and/or a training centre or college; you'll find further details on the NHS Health Careers website here:-
https://www.healthcareers.nhs.uk/career-planning/study-and-training/appr...
Apprenticeships cover the whole spectrum, from roles in nursing, midwifery and the ambulance service to pharmacy, informatics and healthcare science.
Allied health professions offering apprenticeships include physiotherapy, podiatry and prosthetics and orthotics.
Nursing degree apprenticeships, which mostly take four years, offer flexible routes into nursing that don't require full-time study at university, although nursing degree apprentices will still need to undertake academic study at degree level and meet the standards laid down by the Nursing & Midwifery Council. Nursing associates also have the opportunity to qualify as registered nurses through the apprenticeship route.
You can find more details here:- https://www.healthcareers.nhs.uk/explore-roles/nursing/studying-nursing
Laura Roberts, HEE's Director of Skills Development & Participation, said: "Apprenticeships are a vital part of NHS recruitment and an important route to improving diversity and inclusion.
"They give people of all ages a route into hundreds of different jobs, allowing them to learn new skills and gain recognised qualifications while continuing to earn a salary.
"From newcomers to experienced members of staff, they offer employees at all levels valuable opportunities for professional development."
This year's National Apprenticeship Week (3 to 9 February) is marked by the 'Look Beyond' campaign, urging people to inquire beyond traditional routes into their chosen employment.
Health Education England is highlighting stories showing the diversity and breadth of apprenticeships within the NHS.
Gareth Ward, who works in Chippenham, began his career as support worker helping adults with learning disabilities. He became a paramedic and then began working in a local GP centre, which led to him taking on an advanced clinical practitioner Master's degree apprenticeship.
He said: "The apprenticeship gives me protected study time which fits in well with my busy home life.
"I'm most proud of the fact that with dyslexia, I am still able to pass modules at Master's level and I'm in a position where I'm championing the role of paramedic within primary care.
Every day is a learning day and I'm fortunate enough to work with some excellent and knowledgeable clinicians."
Peggy-Jane Murrell, a trainee nursing associate, works at Western Sussex Hospitals NHS Foundation Trust. She worked in a care home for three years before becoming a healthcare assistant. Her apprenticeship means her qualification is paid for and she can learn as she earns by having time off work for university.
She said: "I feel like a useful member of the team.  I've always been made to feel very welcome and supported in my new role, and people seem interested in my progression through the journey."
You can read more inspiring stories about NHS apprentices here:-
https://www.healthcareers.nhs.uk/news/health-careers-helps-nhs-celebrate...