HEE clinical fellows produce new COVID-19 advice guide
26 November 2020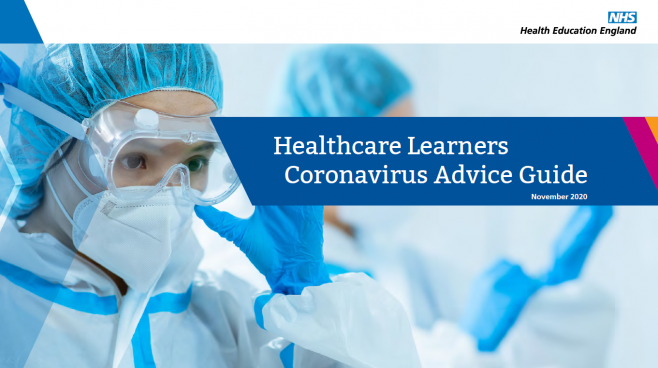 Two of HEE's clinical fellows have produced a practical guide to help healthcare learners stay safe during the coronavirus pandemic.
Doctors Raees Lunat and Vidushi Golash were both frontline clinicians during the first wave of the pandemic and are currently Clinical Fellows to HEE's National Medical Director, Professor Wendy Reid.
The Healthcare Learners Coronavirus Advice Guide contains useful hints, tips and advice on staying safe while at work, commuting and at home. The contents were collated from questions posed to HEE and experiences shared by healthcare learners working on the front line.
 Dr Golash said: "For everyone in healthcare, COVID-19 has changed every aspect of the way we work. It was the practical, day-to-day advice which proved most helpful when establishing our new, safe routines."
Dr Lunat added: "We hope this guide summarises some of that and will act as a valuable resource for all healthcare learners, providing innovative advice on staying safe in multiple aspects of home and work life."
The comprehensive guide covers everything from the correct way to wear PPE and keep mobile phones clean to advice on taking breaks, safe commuting and team handovers.
It is being widely distributed via established healthcare networks and social media, and can be found on the HEE website here:- https://www.hee.nhs.uk/covid-19/covid-19-updates-all-professions-october...
Professor Reid said: "The guide was originally produced by trainees, for trainees – between them, Raees and Vidushi have created a document containing a wealth of practical advice which will actually be of use to everyone."