HEE launches awards focused on NHS Values
17 January 2019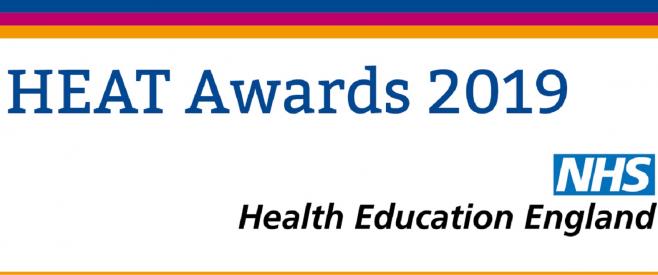 Health Education England is searching for outstanding and inspirational healthcare staff for their new HEAT (healthcare education and training) awards launched by the Health Minister today.
Do you know someone who is the backbone of the NHS working tirelessly to deliver high quality care for patients? We are looking for shining examples of the very best in education, training, leadership and workforce planning within the NHS?
The criteria for the HEAT Awards is firmly rooted in NHS Constitution values and everyone who works or who is training to work in the service should demonstrate a commitment to living and sharing these.
Health Minister, Stephen Hammond said: "NHS staff work tirelessly to care for patients around the clock and they deserve every recognition for their outstanding contribution. 
"The HEAT Awards will reward those who go above and beyond their role and act as leading lights in training and leadership. This is our chance to show them our huge appreciation for the dedication and spirit they demonstrate day in, day out."
HEE is leading the national Values Week campaign to bring these values to life for staff and we would like to encourage NHS organisations up and down the country to get involved and join the conversation. The awards will be held at the end of our conference celebrating staff and learners during NHS Values week on the 18 July.
Ian Cumming, Chief Executive, Health Education England, said: " Our new awards celebrate the best examples of care provide by current and the next generation of NHS staff. It will also recognise the contribution of colleagues who support them through exemplary leadership, training, workforce planning, innovation and promoting the values of the NHS Constitution.
"Training and education plays a vital role in helping to make sure that NHS staff have the right skills to provide patients with safe, high quality and compassionate care.  Highlighting and showcasing the immense talent within our workforce helps to underline how work within the healthcare sector can be a rewarding and fulfilling career and benefit patients."
Full details about who can be nominated along with the award criteria can be found on our website www.hee.nhs.uk/heatawards. The closing date for nominations is midnight on 5 April. 
Full list of awards
Inspirational Leader of the Year 
Emerging Leader of the Year 
System Transformation Champion of the Year  (open to individuals and teams)
Inspirational student
Inspirational Trainee 
Inspirational Apprentice 
Inspirational Return to Practice 
Champion of the NHS Constitution  
Champion Diversity, Inclusivity and Widening Participation 
Champion of Tomorrow's Workforce 
Digital Innovator of the Year  
Inspiring Trainee/Student Educator (open to individuals and teams) 
Inspiring Place to Work and Train