HEE run project at NUTH wins award at Movement to Work's Social Mobility Awards
8 February 2019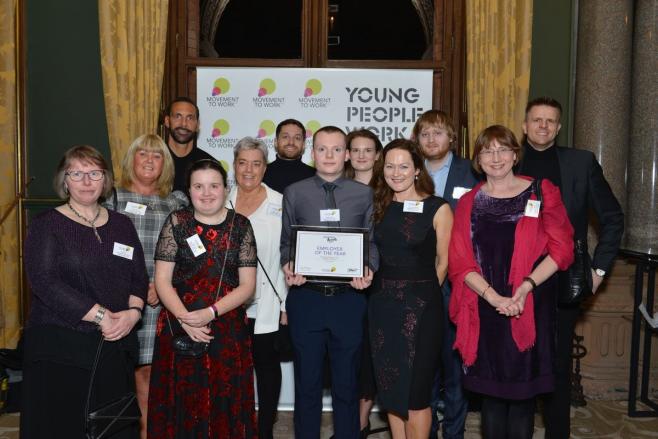 Health Education England is delighted to be celebrating with staff and learners from Newcastle Upon Tyne Hospitals NHS Foundation Trust (NUTH) after they took home the prize for 'Employer of the Year' at Movement to Work's Social Mobility Awards on Monday 4 February 2019. 
NUTH were successfully nominated for their Project Choice work, a supported internship programme run by HEE that enables young people aged 16-24 with a learning disability, difficulty or autism to spend a year completing various work placements, with the aim of going on to achieve sustainable employment. 
Laura Roberts, Regional Director (North), Health Education England said:
"It was fantastic to celebrate with NUTH on their well-deserved award win. 84% of interns from the last six years at NUTH have gone on to paid employment upon completion of the supported internship.  Given that the national employment rate for individuals with learning disabilities is at 7%, this is a huge achievement that is having a significant impact for individuals and their families as well as for the teams in which they are now working."
Interns work across a number of different departments, including supporting nursing staff on the wards, preparing patient notes for clinics or sterilising and preparing surgical equipment as well as in catering, portering, pharmacy, linen rooms, domestic services, reception and supplies.  Each intern is supported by a mentor to reach their full potential at work, with lots of positive feedback from interns, their families, mentors and managers of the departments in which they are working."
Movement to Work is a voluntary collaboration of employers committed to reducing youth unemployment by providing high quality work experience and opportunities to young people who are not in education, employment or training (NEET).  At their CEO Summit and Social Mobility Awards held on 4 February, Minister of State for Employment Alok Sharma announced delivering of over 80,000 work placements for unemployed young people, providing over £1bn of benefit to the UK economy.  The awards were presented by BT Sport presenter Jake Humphrey, with guest speakers footballer Rio Ferdinand and vlogger Spencer Owen.
For more information on Project Choice, please contact the team on projectchoice@hee.nhs.uk