HEE staff join the celebrations at London Pride
5 July 2022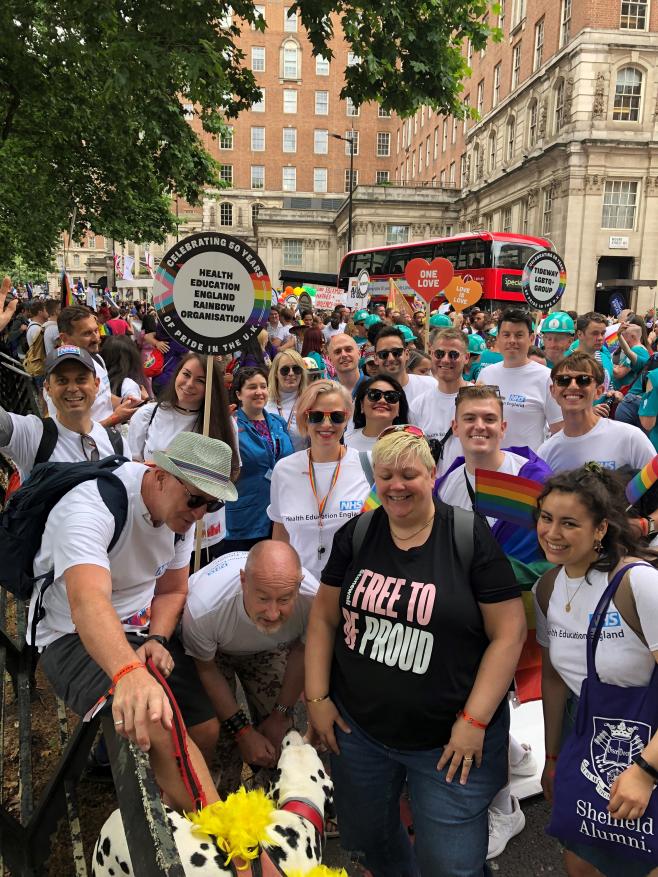 A cheerful team of HEE staff continued an annual tradition by joining London's Pride march at the weekend.
To commemorate the 50th anniversary of the first UK Pride event, the parade took place along the original route from Marble Arch to Whitehall.
HEE staff celebrated alongside participants from a number of NHS trusts.
Patrick Mitchell, HEE's Director of Innovation, Transformation and Digital, said:  "It was absolutely fantastic to join our LGBTQI+ Staff Network, HEEROs, at Pride in London.
"Wearing our HEE T-shirts, we all marched together taking in the atmosphere of the amazing crowd that was ten-deep either side of the roads. It's incredible how far LGBTQI+ rights have come and that we could celebrate more than protest.
"However, with up to one in three new entrants to the general workforce "returning to the closet" due to work based micro-aggressions - and, in some reported cases, violence towards LGBTQI+ employees - we cannot be complacent about the journey we still have to travel.
"Thank you to everyone who participated -  it was a true honour and a blast to walk with you."
The picture shows members of the HEE contingent on Saturday's march.