Highest-ever ranking for Health Education England in list of Britain's most LGBT-inclusive employers
24 January 2019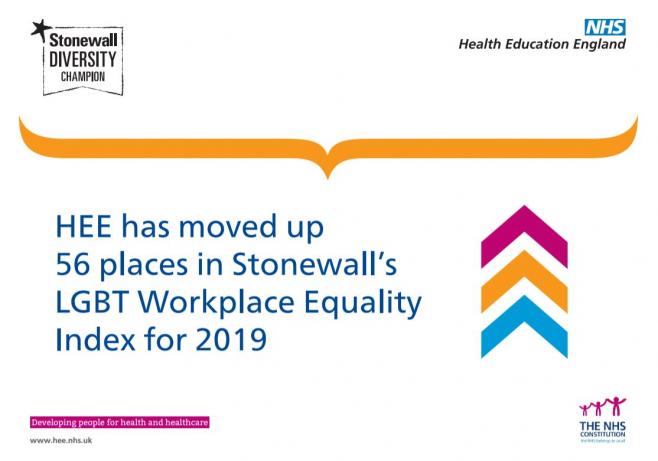 Health Education England (HEE) has increased its ranking by 56 places in an annual audit of workplace equality for lesbian, gay, bi and trans (LGBT) inclusion in the workplace. 
Organised by the charity Stonewall, the UK Workplace Equality Index is recognised as the definitive benchmarking tool for employers to measure their progress on LGBT inclusion in the workplace. This year's Index was the largest ever and places HEE 256 out of 445 participating organisations. 
To achieve this progress, HEE demonstrated expertise in 10 areas of employment policy and practice, including networking groups, senior leadership, procurement and engagement. 
Professor Ian Cumming, Chief Executive of HEE said: 
"I'm proud of today's announcement which reflects the hard work HEE staff and colleagues have put into creating a friendly, supportive and respectful environment for all of our employees.
"We understand that people work better when they can be themselves, and for that to happen, we need to create an inclusive working environment that values the contribution everyone makes. The Stonewall framework has helped us to make significant improvements for LGBT employees over the last year and the feedback we have received will help to keep the momentum and identify where we can make further improvements.
"I hope this recognition will continue to make HEE an attractive organisation to work for."