Independent evaluation finds trainee nursing associates are very positive about their training experience
16 October 2019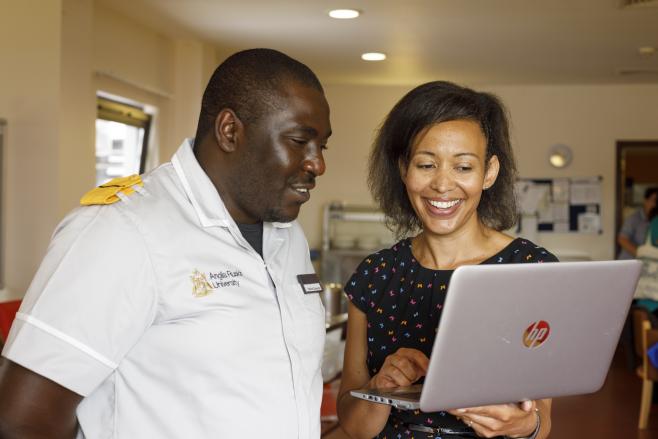 Independent evaluation of the popular trainee nursing associate role has found that there are high levels of enthusiasm and commitment to the programme. More than 7 out of 10 trainees who were surveyed applied to the programme to progress their careers and to develop their skills and capabilities.
Published today by Health Education England (HEE), the Traverse Ltd evaluation tracks the progress of the 2,000 trainees that made up the first two pilot cohorts of the programme.  The report draws on three online surveys of Trainee Nursing Associates, which received 2,477 responses in total. Line managers were also surveyed in the second year of the programme, with 531 responses received.

Key report findings include:
85% of trainees surveyed, felt prepared to enter the workforce as a Nursing Associate;
8,000 people applied for approximately 2,000 places. Successful applicants were aged between 18 and 55, two per cent are aged 56-65;
65% of trainees intend to continue to continue working as a nursing associate;
The programme is seen by trainees as a stepping stone to nursing/an opportunity to go to university that might otherwise not be possible due to family and financial circumstances; and
Trainees expressed high levels of satisfaction with the quality of teaching and support from HEIs, especially where interactive learning modes were used and where modules were delivered by staff who are close to nursing practice.
There are some challenges, some trainees reported that their colleagues had struggled to provide them with learning support at times due to workforce challenges and limited understanding of the role and its remit by other staff within their home settings.
Report recommendations include:
The creation of a comprehensive communication programme to improve the perception of the nursing associate role in new and existing settings. This work should include consideration of a Nursing Associate ambassadors' scheme.
Explore whether there is scope for Higher Education Institutions (HEIs) to further streamline their curriculums and scheduling of activities and assessments, without compromising on the depth and breadth of the programmes.
Explore the possibility of developing a part-time Nursing Associate training programme to reduce the challenges associated with heavy workloads and competing priorities associated with the two-year programme
Conduct robust research and evaluation about how qualified Nursing Associates are being recruited and deployed in different settings over time and feed this
Mark Radford, Chief Nursing Officer, Health Education England said:
I know Lisa Bayliss-Pratt led this work for HEE which highlights the ongoing opportunity of this new profession to the NHS and social care sector. I welcome the findings that show it provides applicants with an opportunity to enter a health career, progress their careers through education and contribute to the quality of care for patients and service users. The report also indicates the high level of trainees' motivation to learn and develop and includes examples of how the role is already supporting patient care."

However, this report also highlights some challenges that we must address to ensure that students such as ensuring the quality and oversight of placements, attrition and numeracy support."

"We also recognise that further work and research is required to ensure that the profession is supported and utilised in the workforce of health and social care as part of the MDT.    I am pleased to be able to report that we are in the process of identifying candidates to be considered as NA ambassadors across England. 
Commenting on the report, Professor Lisa Bayliss Pratt, Pro Vice-Chancellor at the University of Coventry and who was HEE's lead for the development of the role said:
 I am delighted that the report continues to show that Trainee Nursing Associate's remain positive about their learning experiences and continue to make a positive difference to the people that they care for and the teams they work with. It is clear that the trainee nursing associate role is becoming an integral part of the health and care workforce playing a key role in supporting patients, carers and their families up and down the country.

It is also pleasing to see that the role is being considered as a stepping stone" to becoming a registered nurse, as was originally intended when the role was created.
Andrea Sutcliffe, Chief Executive and Registrar for the NMC said,
I'm pleased to see the positive findings of this report. As we look forward to celebrating the first anniversary of the nursing associate role coming onto our register next year, this report reflects what we are seeing too.

Having had the pleasure of meeting many nursing associates across the country, I am continually inspired by their enthusiasm and dedication for providing care and they should be very proud of the difference they make for the people they support.

I look forward to seeing how nursing associates continue to develop and be supported in their work, long into the future.
What TNA's say about their learning:
Case Study: Julia
I worked in a district nursing setting as HCA when I applied to the programme.  In this role you work independently across a range of settings, visiting people in their homes or going to residential settings. I love the role – the diversity of the role, the different patients. No two days are the same. I really like the fact that I could join the programme but continue earning. I have a family so losing my income was not an option.
HEE will share the learning from this report widely with test site partners, potential employers of the next cohorts of trainees, education providers and others, to ensure that current and future TNAs and their employers can benefit from the good news and challenges found in this evaluation.
The HEE Board has also agreed to commission a further piece of academic research into the impact of this new role on the care of patients.
To view the report visit: https://www.hee.nhs.uk/sites/default/files/documents/15.1%20-%20Trainee%...