Independent evaluation finds trainee nursing associates see role as career pathway
2 August 2018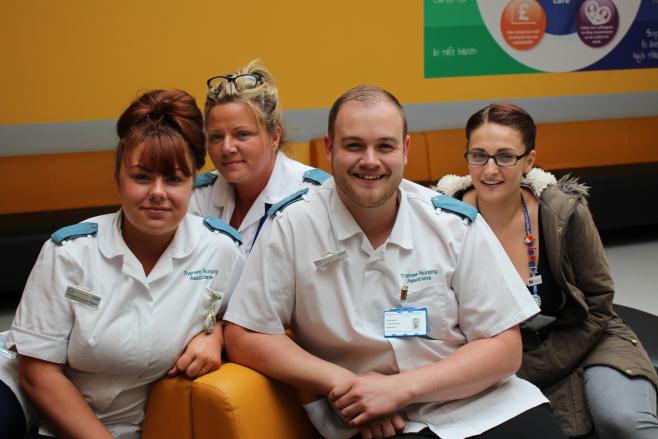 Independent evaluation of the first cohort of nursing associate test sites has been published today shining a light on the clear career path from healthcare assistant to nursing associate.
The evaluation draws on the first online survey of Trainee Nursing Associates (TNA), which received 1,030 responses.
The recommendations in the report are based on learning points emerging in the first four to five months of the programme.
Key findings:
Around 8,000 applicants for 2,000 places showed there was considerable interest in the programme
Interviews revealed that the programme is seen by many TNAs as a stepping stone to becoming a registered nurse and as an opportunity to go to university that might otherwise not be possible because of their personal circumstances
In the first few months of the programme, TNAs are highly motivated and conscientious learners, keen to build on their experience of working in health and care settings
Challenges that HEE is addressing as the next cohort of TNAs begin their training include helping TNAs manage high workloads and ensuring they have sufficient time to devote to the different elements of the programme
The other challenge raised that HEE will work with partners to address was travel to and from placements and university
Professor Lisa Bayliss Pratt, Chief Nurse and Interim Regional Director for London  HEE, said:
"It was really important for us at HEE to ensure that we had a robust and reliable evidence base from which to address any emerging issues within the life of the programme.

"I'm really pleased therefore to share with you this Phase 1 evaluation report covering the early months of the test site programme which includes a range of perspectives from the trainees themselves, supervisors, practice educators, HEI leads and senior stakeholders such as directors and assistant directors of nursing.

"I welcome these findings that show the main motivations for applicants were to make progress in their careers and improve the quality of care for patients and service users.  The report also indicates the high level of trainees' motivation to learn and develop, and includes examples of how the role is already benefiting patient care."
HEE will share the learning from this report widely with test site partners, potential employers of the next cohorts of trainees, education providers and others, to ensure that current and future TNAs and their employers can benefit from the good news and challenges found in this evaluation.
The full report can be found here.