Indian Kerala State Minister Meets Global Learner Nurses in the North West of England
22 July 2019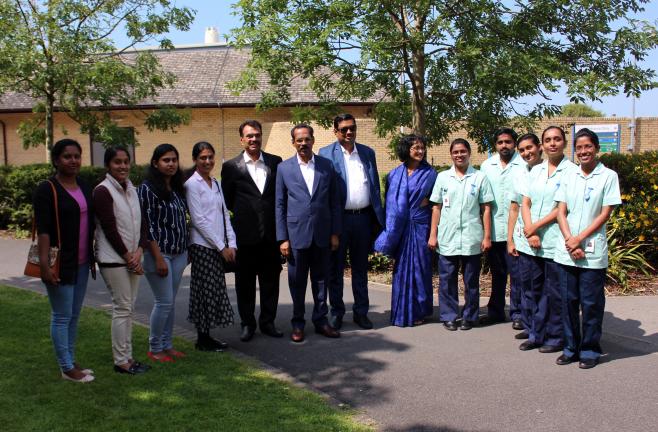 The Hon TP Ramakrishnan, Minister for Labour and Excise in Government of Kerala, India, made a special visit to the north west of England last week to meet with nurses working and training as part of Health Education England's (HEE) global learners scheme that offers overseas nurses a safe, ethical and supported route into training and practice within the NHS.
The Minister visited Royal Blackburn Hospital and Royal Preston Hospital where he was welcomed by senior trust management. At both hospitals he met with nurses from the Kerala State currently providing healthcare services for patients while enhancing their skills through training at the trust.
The Minister spoke to the nurses about their experiences of coming to work and train in England and discussed how the programme was progressing with management teams at HEE and the trusts.
While in the UK the Minister signed an executive agreement that further cemented the relationship between Kerala State and the NHS in England.
Following his visit, Mr Ramakrishnan said:
"It has been a very useful visit. I am very impressed with the nurses I met. They are clearly benefiting from their time in England and improving their skills every day with a world-class health care provider.

"The nurses have been extremely well looked after by the trusts and the global engagement team at Health Education England. This is a scheme we would wish to see expand and something we would like more nursing staff in Kerala to experience."
Professor Ged Byrne, Director of Global Engagement at HEE, said:
"It was great to be able to welcome the Minister on his fact-finding visit to England to see first-hand how the global learners programme is working to benefit patients in England in time back in Kerala when the nurses return to their home country better equipped with skills and experience learnt in the NHS."
Christine Pearson, Director of Nursing, East Lancashire Hospitals NHS Trust, added:
"We are very pleased to welcome the global learners to our Trust. They bring with them a wealth of nursing knowledge and experience, which will support and enhance our current nursing workforce. We look forward to being part of their onward nursing career, and hope they enjoy their time with us."
Sarah Cullen, Nursing, Midwifery and Allied Health Professionals Director at Lancashire Teaching Hospitals, said:
"We were delighted to welcome the Minister to Royal Preston Hospital to meet some of our international nurses and find out more about the opportunities that we are able to provide for them. The Minister was able to take a tour of our ward areas and education facilities and see first-hand the contribution that these nurses make to our organisation."
HEE is working with State Governments in India to deliver the global learners' programme to ensure it is run ethically and with appropriate government oversight and support both in India and the UK.
A key part of the global learners' programme is ensuring that nurses can return to India with enhanced skills. The Kerala Ministry of Health is therefore holding the jobs of government nurses who migrate under the GLP open, so if they wish to come back to India after developing skills, they have a guaranteed role to return to.
Kerala produces thousands of nurses every year. It has a minimal vacancy rate in the nursing sector with no risk to the workforce capacity in the region during the three years when nurses work and train in the UK.
More information about the Global Learners Programme is available from glp@hee.nhs.uk.
Background information
Health Education England is the UK government body responsible for the NHS's workforce and education and has been assessing ways to improve the experience of nurses from other countries migrating to the NHS.
HEE has created the Global Learners Programme (GLP), which gives nurses an ethical, safe, low-cost, and government-sponsored route into NHS work and training.
The Global Learners Programme works with Trusts right across the NHS in England and guarantees a core package of support including free language and clinical training in India, free flights to the UK, visa, health surcharge, and three months' accommodation on arrival in the UK. It also ensures nurses have a structured clinical preceptorship and are assigned a clinical mentor throughout the programme. At the end, they will receive a certificate in Global Learning.
With a relaxation of the Tier 2 visa cap for nurses, HEE is aiming to recruit up to 5,500 nurses by March 2022 through the GLP and is particularly open to applications from India given the high quality of clinical training and good English Language skills.
The visit strengthens the recruitment process facilitated by Overseas Development and Employment Promotion Consultants Ltd (ODEPC), a company under Labour Department, Govt. of Kerala. ODEPC has been created to facilitate recruitment of professional and technical staff overseas clients.
Health Education England and ODEPC have signed an initial agreement for the recruitment of nurses for NHS Trusts.