More than 18,000 students accepted onto nursing and midwifery courses in England
18 August 2022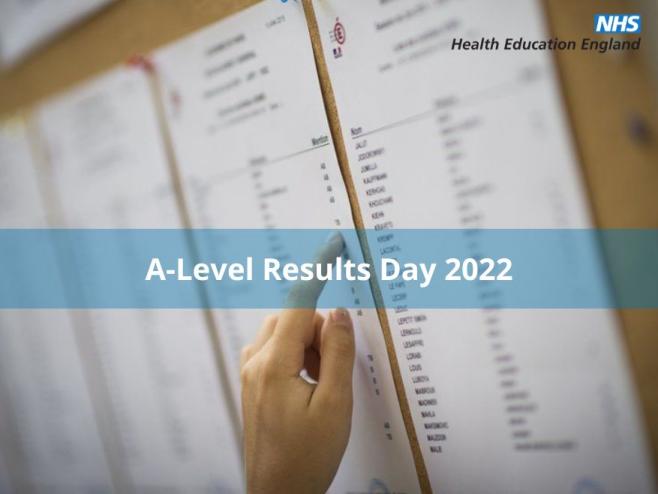 More than 16,000 students have made it on to nursing degree courses in England for 2022-23, according to new data published by UCAS.
In addition to this there were 2,790 accepted applicants to midwifery courses.
Nursing degrees are the most employable in the UK, with 94% of graduates getting a job within six months of finishing their course.
Students can still enrol in a nursing or midwifery degree, even if they haven't applied for one, through UCAS clearing.
A-Levels results offer just one route into a career in the NHS, with NHS apprenticeships also giving those who don't want to go to university or have missed out on the grades to still earn an exciting career in the NHS.
Other routes into the NHS include Healthcare Support Worker or Maternity Support Worker. More information about these careers is available on the NHS Careers website.
Mark Radford, Health Education England Deputy CEO and Chief Nurse, said: "Congratulations to all students who gained the grades they were hoping for and gained a place at university.
"For those who missed out on the grades they needed for a university place or not sure what they want to do next, the NHS offers a wide range of options to help support a career in healthcare for them.
"NHS apprenticeships and support worker roles allow an entry route into the NHS where you can go on to become a qualified nurses or midwife through our nursing degree apprenticeships."
Maria Caulfield, Minister of State for Health, said: "A-Level results day is always a big day across the country for thousands of students and their loved ones, and it's fantastic to see more people choosing a career in nursing.
"These nurses of the future will help us boost the workforce, with over 10,200 more nurses in the NHS compared to last year – and we are well over halfway towards meeting our commitment to recruiting 50,000 more nurses by 2024."
Professor Greta Westwood CBE, CEO of the Florence Nightingale Foundation, said: "On behalf of the Florence Nightingale Foundation, I send our warmest congratulations to all those who have secured a place on a nursing or a midwifery programme today; and to those of you who are not yet certain of your journey, we say, if you are motivated by making a difference to people's lives and looking for a hugely rewarding career which offers many diverse paths and opportunities, 'come and join us!'."
Dr Crystal Oldman CBE, Chief Executive of The Queen's Nursing Institute, said: "If you're looking for a degree that also gives you a professional qualification where you can make a difference every day to people's lives, you should look closely at a nursing degree.
"Nursing offers a wealth of different specialisms and career pathways and I would urge anyone thinking of a career in healthcare to find out more.
"Nursing is not confined to the hospital - there are a wide variety of nursing job opportunities available in community, where the nursing teams deliver care to people of all ages, including children and young people, at home, in GP practices and clinics. It is truly filled with the most wonderful possibilities for a fulfilling career."
Joanne Bosanquet, Chief Executive of the Foundation of Nursing Studies, said: "The Foundation of Nursing Studies sends our very best wishes for today's A-level results.
"If you've got what you needed to join a nursing or midwifery programme, many congrats.
"There are so many universities offering programmes in children's nursing, learning disability, mental health, adult nursing and midwifery. If you aren't quite sure what to study and you feel a strong sense of social justice, supporting others in their health and wellbeing and advocacy, nursing or midwifery might just be for you."
ENDS