New resource launched to improve dementia care
6 November 2018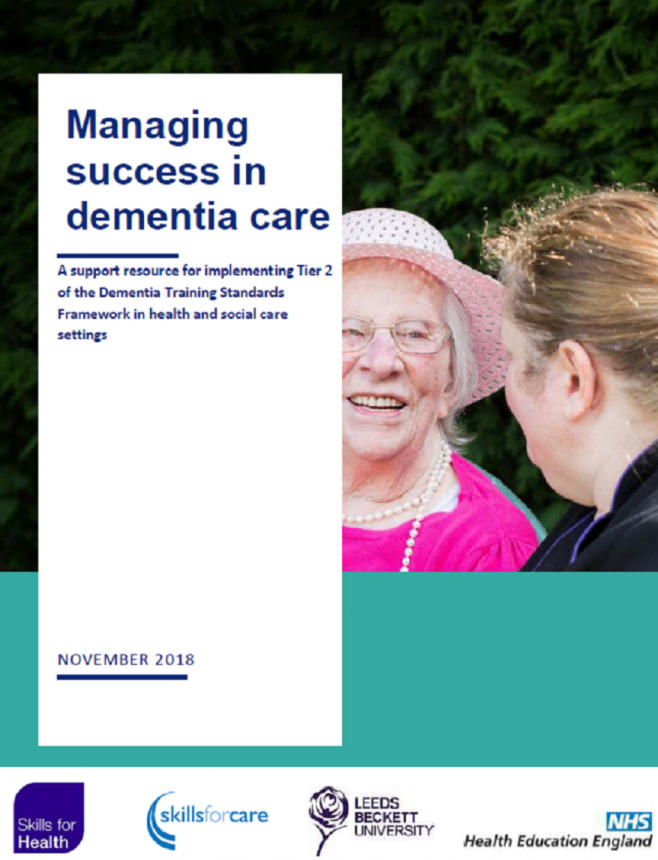 People living with dementia will benefit from improved care following the launch of a new resource for healthcare providers and carers.
Managing Success in Dementia is a resource commissioned by Health Education England (HEE) and developed by Skills for Care, Skills for Health and Leeds Beckett University to support leaders and managers working across health and social care to implement the training outcomes of the Dementia Training Standards Framework  - in particular those responsible for implementing training at Tier 2 level.  Tier 2 training provides additional skills and knowledge for people who regularly work directly with people living with dementia.
The resource will be formally launched to delegates attending the UK Dementia Congress taking place this week in Brighton (November 6-8).
Professor John Clark, Regional Chief Nurse and Head of Allied Health at Health Education England said:
"Health and social care staff who work regularly with people living with dementia must have the right skills and knowledge in dementia care to enable them to provide high quality care.
"Managing Success in Dementia' has been produced to support managers, training leads and others responsible for dementia training in health, social care and housing and allows them to consider the methods and resources they can use to train staff to achieve the learning outcomes at Tier 2 of the Dementia Training Standards Framework."
HEE's Dementia Education and Training Project was established to deliver key targets set by the Department of Health and Social Care (DHSC) on dementia education and training and deliver HEE's obligations set out in the Prime Minister's Challenge on Dementia 2020 implementation plan.
According to research from the Alzheimer's Society around 850,000 people live with dementia in the UK, with numbers set to rise to over one million by 2025 and two million by 2051.