New video promotes supportive culture for returning trainees
8 July 2021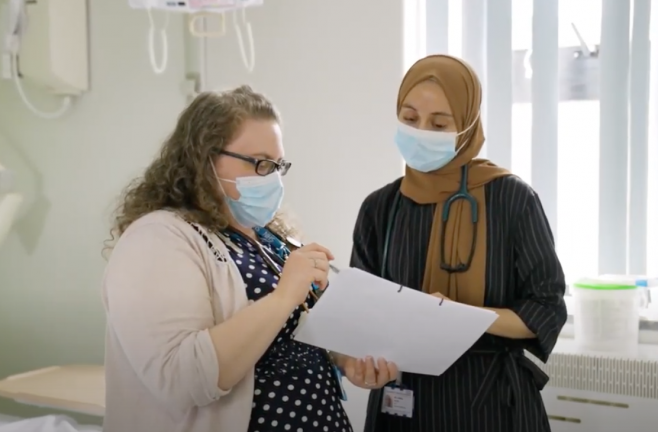 People working across the NHS have participated in a film, launched this week by Health Education England (HEE), to promote its SuppoRTT (Supported Return to Training) programme, which is focussed on creating a positive culture for medical trainees as they return to training after time away.
HEE Chief Executive, Dr Navina Evans and NHS Chief People Officer, Prerana Issar, are among the contributors, sharing their views on promoting a supportive culture for returning trainees, alongside people from across the health sector including current trainees, consultants, academics and other NHS leaders.
The SuppoRTT  programme provides all trainees with tools and resources to feel more confident, supported and prepared to return to training, wherever they are in England and whatever their formal training programme. Every trainee will have different needs and, by encouraging a supportive culture at every level, HEE is working with all its system partners to enable each person to explain where they are up to and what support they specifically need.  This will ensure trainee wellbeing and provide safe, high quality patient care.
Dr Vikram Malhotra, Consultant in Anaesthetics and Intensive Care Medicine said:
'Having been a trainee, and now having transitioned into a consultant role, I feel that I'm able to empathise with the trainees I am now supervising, and would like to be able to support those trainees as much as possible to create an environment which is safer for patients, and have happier, more confident doctors in my team.'
Dr Navina Evans, Chief Executive, Health Education England said:
"This is a really important step towards enabling people to return to training with the specific support they need. Supporting trainees returning to work helps create a safer, more positive culture for our patients and our whole NHS."
Please watch the video https://youtu.be/6NkrymtnmGg
Further info on the SuppoRTT programme