Nominations open for 2020 HEAT Awards, celebrating the best of NHS education and training
13 January 2020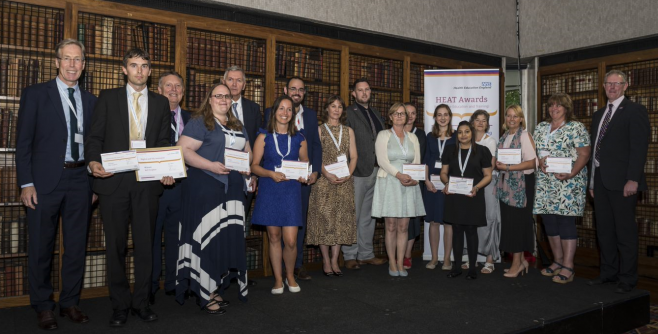 The quest has begun to celebrate the very best in NHS education, training, workforce planning and leadership.
The HEAT (Healthcare Education And Training) Awards 2020 will recognise the achievements of individuals and teams, culminating in a prestigious ceremony for the finalists in July.
The annual awards, run by Health Education England (HEE) and supported by NHSX, are aimed at those who provide an NHS service in England including GP and dental practices, allied charitable and third sector organisations, private sector NHS providers, social care providers, and people training to work in the NHS such as student doctors and nurses.
There are more than a dozen award categories, ranging from Inspiring Apprentice and Inspirational Colleague to accolades for leadership, digital innovation, championing diversity and making the NHS the best place to work.
Nominations are open until 27 March and details about the process, along with more information on the HEAT Awards, can be found here:-  www.hee.nhs.uk//heatawards
Prof Ian Cumming, chief executive of Health Education England, said:
"Last year's inaugural HEAT awards were a huge success, showcasing the talent and extraordinary commitment to education and training found in every corner of the NHS.

"The 2020 HEAT awards will build on that success, shining a light on people and teams across the sector who exemplify best practice, promoting the extraordinary partnership work we rely on and the ambitions of the people plan."
Shortlisted nominees will be announced in May, and the awards ceremony will take place in London on July 9. All finalists and their nominators will be invited to attend, along with final round judges and other key stakeholders.
The awards are supported by NHS England and NHS Improvement as well as NHSX.
Prerana Issar, Chief People Officer for NHS England and NHS Improvement said:
"I am delighted to support the 2020 HEAT Awards which recognise and celebrate the very best examples of education, training, workforce planning and leadership within the NHS."

Lisa Hollins, Director of Innovation Delivery at NHSX, said: "Education and training are at the heart of supporting our staff to deliver excellent services.  We are delighted to support the Digital Innovation and technology-enabled learning category for the 2020 HEAT Awards."
The full award categories are as follows:-
Inspiring Student Award
Inspiring Apprentice Award
Inspiring Trainee Award
Inspirational Colleague Award
Inspiring Returnee
Inspirational Leader of the Year
NHS Emerging Leader of the Year
System Transformation Team of the Year
Digital and TEL Innovation Award - supported by NHSX
Delivering 21st Century Care Award
Inspiring Student or Trainee Educator
Making the NHS the Best Place to Work and Train
Champion of Diversity, Inclusion and Widening
Our NHS People Champion
HEAT Awards Learner Champion
Last year's HEAT Awards attracted nearly 800 nominations from across the NHS, and details about the winners can be found here.