Sir David Behan breaks ground for new teaching facility
6 August 2021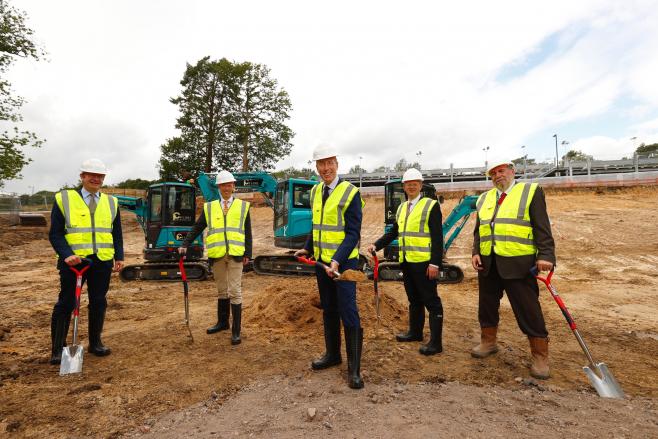 Health Education England (HEE) chair, Sir David Behan, was one of the guests at a ground breaking ceremony to mark the start of construction work to build medical student accommodation and an academic teaching building at Tunbridge Wells Hospital.
He was joined by Maidstone and Tunbridge Wells NHS Trust's Chair David Highton and Chief Executive  Miles Scott ,Greg Clark, MP for Tunbridge Wells; Professor Chris Holland, Dean of Kent and Medway Medical School (KMMS), and Councillor Tom Dawlings, Leader of Tunbridge Wells Borough Council.
The new state-of-the-art six storey building will provide teaching facilities and high-quality accommodation for 145 medical students and trainee doctors a year. The first intake of approximately 40 Kent and Medway Medical School (KMMS) students will arrive in September 2022 so they can undertake their clinical placement with the Trust in years three, four and five of their degree. Once fully established, it will place 120 additional medical students with MTW each year – a 315% increase in the total number of students the Trust currently takes.
Sir David said: "At HEE we have the great privilege of working in partnership with NHS trusts and universities to develop the clinicians of the future; a future which, due to the advances of science and technology, will be very different to the past.
"I am delighted that the construction of the medical student accommodation and academic teaching building will play an important role enabling our future doctors to live and work in the community here in Tunbridge Wells and Maidstone because we know the majority of doctors work in the communities where they are trained and educated. This is such an important and exciting development. Congratulations to all who have made it possible. "
Read the full story on the Maidstone and Tunbridge Wells NHS Trust website