Still chance to apply for forward thinking digital futures programme
7 June 2021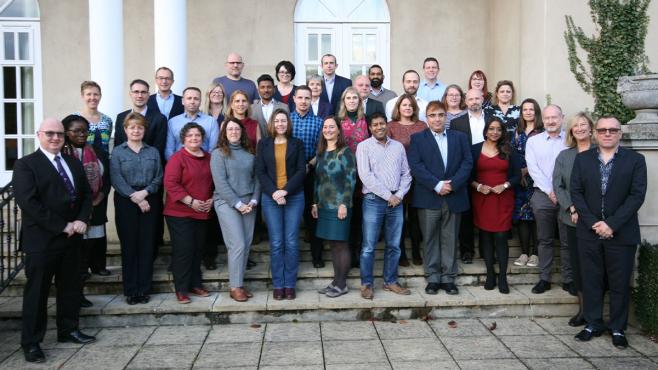 HEE working in partnership with Yale University, USA are looking for the digital leaders of tomorrow who want to explore health and social care on an international scale to enable them to collaborate more effectively to deliver better outcomes for the populations they serve.
Apply today for this this unique international digital leadership programme that offers a comprehensive learning experience including experiential learning, access to vast curricular resources and interaction with top-tier academics from both the UK and US.
Patrick Mitchell Director of Innovation, Digital and Transformation, Health Education England said:
"This is a fantastic opportunity for any senior leaders across health, social care or local government to come forward and gain a greater understanding of the digital agenda and how it can transform their organisation and expand their thinking from local to global."
Last year's alumni Anita Sargeant - Head of School of Allied Health Professions and Midwifery, University of Bradford said:
"The main thing that I've taken away from this project has been that shared, systematic, strategic problem solving can cut through to the nub of an issue ... importantly as a healthcare educationalist we have a role in transformation across healthcare systems. I would recommend the Digital Futures Programme as a space to share learning across disciplines and professions bringing a range of experience and knowledge to draw on. It's been good and it's been good fun!"
Closing date is 30 June 2021. For more info on who can apply and how to apply https://www.hee.nhs.uk/our-work/digital-futures.
Case study 
Musculoskeletal Transformation – Shropshire, Telford and Wrekin
The delegate team from Shropshire, Telford and Wrekin came to the programme with the challenge of an MSK Transformation project that had stalled. An important component of the transformation was that it relied on digitally enabled solutions.
When the pressures of the pandemic hit this project team, they decided to stick with it. 
The team from health, education and local government used the need to establish new ways of working during the pandemic to build 'Digital Trust' and take the time available during lockdown to work online to further develop professional and personal trust among stakeholders.  
They developed an STP Cloud Collaboration Strategy and rolled out a range of digital tools that were both needed to support new ways of working during the pandemic but also aligned to the needs of the MSK transformation project.  
Consecutively the clinical lead worked with the stakeholders to further engage the MSK forum to evolve into an online stakeholder governance body for the project. 
This combination of interventions has reenergised the project, secured full and proper engagement and commitment, enabled proper sign off and commitment to implementing the new clinical model including digitally enabled solutions