Successful night for our colleagues and partners at Nursing Times Awards 2021
28 October 2021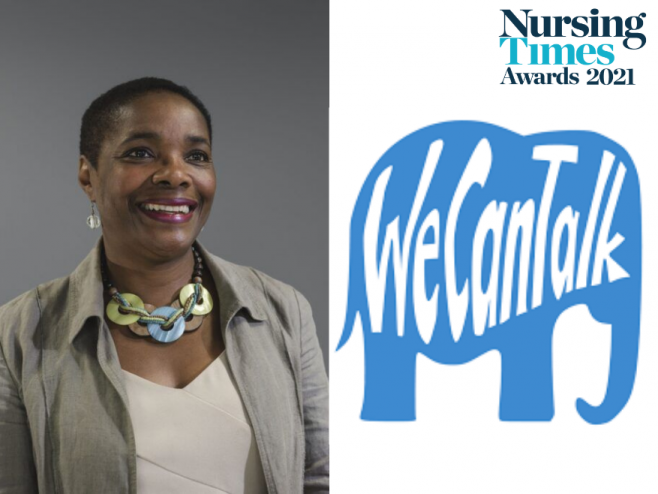 A double victory last night at the Nursing Times Awards 2021. Congratulations to our winners Professor Laura Serrant, honoured with the Lifetime Achievement Award, and the HEE commissioned 'We Can Talk: Fundamentals of Compassionate Care' online resources project, which was developed by Healthy Teen Minds and won the in Emergency and Critical Care category.  
As a result of Covid the event was held virtually last year, in 2021 the ceremony was back live-in person, with a special surprise video message by The Prince of Wales. His Royal highness paid tribute to "tremendous" work of nurses over the course of the coronavirus pandemic and highlighted the way the profession had met the "great challenge" of Covid-19 with "even greater dedication". 
Professor Laura Serrant was our first big winner of the night. Laura is the head of Nursing and Midwifery for North-East Yorkshire at HEE, and professor of community and public health nursing at Manchester Metropolitan University. She was recognised by the UK's chief nursing officers for her exceptional accomplishments as a Nurse leader and academic.  
Professor Laura Serrant said "I am honoured to receive this award from the 4 UK CNOs. My passionate belief in equity in health and life chances for all has driven my work throughout my nursing professional life – it is also central to my personal values. Being award this in Black History month 2021 is even more special - My parents, like many migrants from the commonwealth came to UK for better life and opportunities for their children. This is a testimony to them and all the ancestors for their bravery." 
CNO for England Ruth May, presented Laura with the prestigious award, describing her "a truly extraordinary nurse leader and academic who has made a significant contribution to the profession". 
Since completing one of the first graduate nursing programmes at Sheffield City Polytechnic 1986, Professor Serrant's work has included tackling the stigma associated with HIV. She has done research across many fields including the sex work industry, and alcohol and drug dependency. 
In 2018, Professor Serrant was named one of the eight most influential Black people in the UK and was awarded an OBE in the Queen's birthday honours for her extensive contributions to nursing. 
In July this year she was inducted as a fellow of the American Academy of Nursing. 
HEE Chief Nurse Officer, Mark Radford said:  "I am thrilled that Laura was honoured with the Nursing Times lifetime achievement award. Laura is an inspirational leader whose work has had a significant impact on patient care and nurse education, congratulations Laura."
During the awards, We Can Talk: Fundamentals of Compassionate Care was recognised for the vital crisis care and suicide prevention throughout the Covid-19 pandemic.  
In response to the Covid-19 pandemic, HEE, working with Healthy Teen Minds, has developed a free online training tool. Designed to improve staff knowledge and confidence when supporting young people presenting in hospital in mental health crisis. HEE commissioned Healthy Teen Minds to co-produce the We Can Talk training package with input from hospital staff and young people, as well as mental health experts. 
Chief Executive of Healthy Teen Minds, Co-Founder of We Can Talk and registered Mental Health Nurse, Robin Barker said: "I am so proud to have the We Can Talk project recognised by the Nursing Times and a judging panel of inspirational nurse leaders.
This award is a recognition of the amazing collaboration of hospital staff and young people, providing real life experience and working together to improve the skills of the acute hospital workforce." 
Healthy Teen Minds Young Advisors, Nadia, Kenya and Jo said: "We are so thrilled to see change in action; it gives us hope that young people in crisis in the future will be safer. We are incredibly grateful to the judges and sponsors for their support and contribution to changing the future."  
More information can be found at We Can Talk website, where users can sign up to the training free of charge. 
I also want to congratulate the We Can Talk, fundamentals of compassionate care team, on their Emergency and Critical Care award. Their work with young advisors has created a successful platform to educate staff and create effective communication with children and young people when visiting hospital – a well-deserved win