Top nursing honour for Health Education England's Gillian Baker
18 July 2018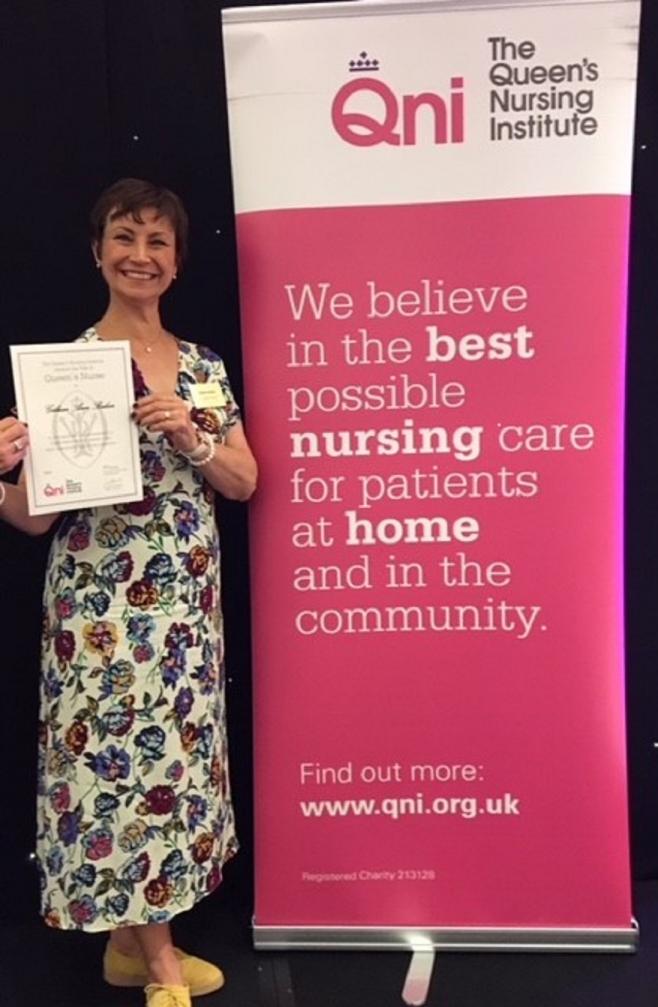 HEE Thames Valley Quality Lead in Practice Learning, Gillian Baker has been given the prestigious title of Queen's Nurse (QN) by community nursing charity The Queen's Nursing Institute (QNI).
Gillian who is based in Oxford receives the award in recognition of her commitment to high standards of patient care, learning and leadership. Queen's Nurses are committed to learning, leadership and high standards of practice and patient care.
Commenting on the award Gillian said;
"I'm really proud to have achieved this title. Although I am no-longer directly involved with patients, I am fortunate enough to be able to influence the quality of community care through my work; in particular I am able to influence high-quality education and training which is directly linked to improving the quality of patient care.
"I will always fly the flag and raise the profile of community nursing by working with and supporting professional colleagues and students; by acting as a role model and demonstrating my commitment with passion and enthusiasm.
In my nursing practice and throughout my career whether directly as a clinician, indirectly as a nurse teacher and now in my quality role, high quality individualised patient care remains at the centre of everything I do."
Dr Crystal Oldman CBE, Chief Executive of the QNI said:
On behalf of the QNI I would like to congratulate Gillian and welcome her as a Queen's Nurse. Queen's Nurses serve as leaders and role models in community nursing, delivering high quality health care across the country. The application and assessment process to become a Queen's Nurse is rigorous and requires clear commitment to improving care for patients, their families and carers. We look forward to working with Gillian and all other new Queen's Nurses who have received the title this year."
Gillian is a Registered Nurse working in both the primary and secondary care sectors before joining HEE in November 2015.