Advanced Practice Toolkit
The advanced clinical practice toolkit supports ongoing work to enhance the understanding of advanced clinical practice (ACP). The toolkit aims to benchmark this level of practice and its application to specific roles across clinical practice, leadership and management, education and research.
The toolkit provides general information about the ACP role as well as specific information aimed at the following groups of people: practitioners, educators, employers, commissioners, those planning the workforce across systems and patients/service users.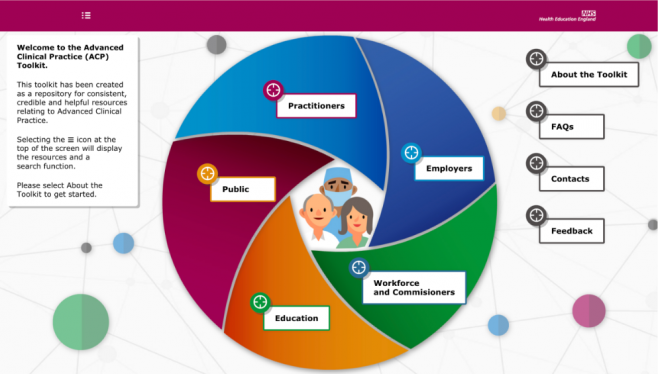 Content includes:
A definition and an understanding of the four capabilities that underpin ACP
Information for practitioners on how the four capabilities that underpin ACP can be assessed
Advice for employers about how to build ACPs into the workforce (this includes information on governance and supporting the role at all levels in the workplace, recruitment, appraisals, apprenticeships and staff retention)
Information for commissioners and system leaders, including advice on planning the workforce
Useful advice about the ACP role for patients and service users, to help them understand the role
It will be helpful to have read the 'Multi-professional framework for advanced clinical practice in England'.