Promoting the role of AHPs in multidisciplinary teams
The 'Patient and Practitioner Voices' project started with a 'workshop' in October 2017 where people affected by cancer and AHPs involved in providing care to people affected by cancer came together to tell their stories.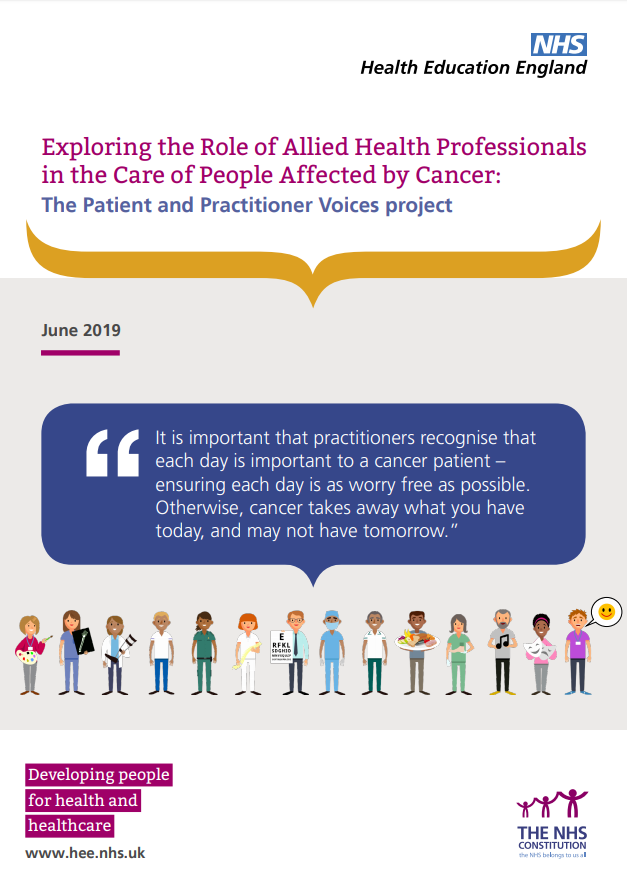 This work was extended by contacting further patients and practitioners until we had a comprehensive collection of patient and practitioner 'stories' across all 14 allied health professions, across the entire cancer care pathway (prevention, screening, diagnosis, treatment and survivorship) and across multiple cancer types.
The two resulting documents – one aimed at professionals and one aimed at service users - are intended to promote the roles and skills of AHPs in cancer care and raise awareness in people affected by cancer of the wide range of care interventions available from the AHP workforce.
AHPs are the third largest NHS professional workforce group and make a significant contribution to the care of people affected by cancer. This contribution is often hidden as public awareness of the 14 separate AHPs is limited with the general public often only citing the care of 'doctors and nurses'. With cancer affecting almost 1 in 2 people, most of the general AHP workforce will care for people affected by cancer. However, people with cancer have specific physical and emotional needs and some AHPs require additional knowledge and skills to deliver a higher level of 'specialised' care.  
These publications outline the range of care interventions AHPs can offer to people affected by cancer and illustrate the general and specialist skills required of this workforce in this care setting. It is hoped that they will raise the profile of AHPs in cancer care, improve recruitment and retention of AHPs to the cancer workforce and enhance the quality of care experienced by people along the cancer care pathway.
Access the documents: