We all use technology in our personal lives
As technology evolves we want the health and social care workforce to be fully competent, confident and capable in its use in the workplace.
Digital literacy
The digital literacy project is about improving the digital capabilities of everyone working in health and social care. The best care of all individuals is only possible if these capabilities are fully developed and exploited.
Excellent digital capabilities include a positive attitude towards technology and innovation and its potential to improve care and outcomes. With improved overall digital literacy capabilities, we can all maximise that potential.
We define digital literacies as those capabilities that fit someone for living, learning, working, participating and thriving in a digital society.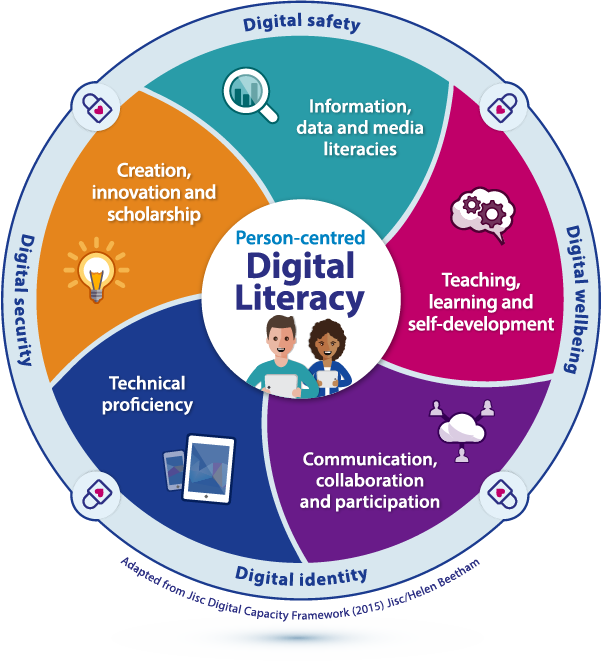 Digital literacy is person-centred and can be divided into six domains. Each one has its own capabilities and behaviours to help improve the health and social care workforce.
Communication, collaboration and participation
Teaching, learning and self-development
Information, data and media literacies
Creation, innovation, scholarship
Technical proficiency
Underpinning all the above domains is the sixth - digital identity, wellbeing, safety and security. This is because everything we do must be within a safe and secure context with due regard for our own and others' wellbeing. It is also because anything we do online contributes to a created digital identity or identities which we all need to be mindful of.
We are working with and supporting the Building a Digital Ready Workforce (BDRW) programme of the National Information Board to support the digital literacy work stream. The need for this important work was also identified as part of our mandate from Government.
Our work so far
The digital literacy definition and domains resulted from work undertaken on the project by a Digital Literacy Stakeholders Group.  This group was also responsible for work undertaken to research the challenge in upskilling workforces in the healthcare and other sectors and looking at some of the solutions in meeting those challenges.  In addition to this work, another stakeholder group focused on some of the barriers that prevent people working in health and social care from accessing technology and exploiting the power of digital in providing the best care.  Included in this work were those human factors, including insufficiently high digital capabilities, that can act as barriers.
We are working in partnership with the Royal College of Nursing (RCN) on some of our digital literacy work. Together, we are working to promote the widest use across the health and care landscape of our definition of digital literacy and the digital capabilities that sit within that definition. Our latest document, 'Improving Digital Literacy', available below, explains what digital literacy is and why it is important.
Six papers have been produced as part of the digital literacy project. These are: