Digital literacy
Digital technology is integrated into our lives. As technology evolves we want the health and social care workforce to be fully competent, confident and capable in its use in the workplace.
Digital literacy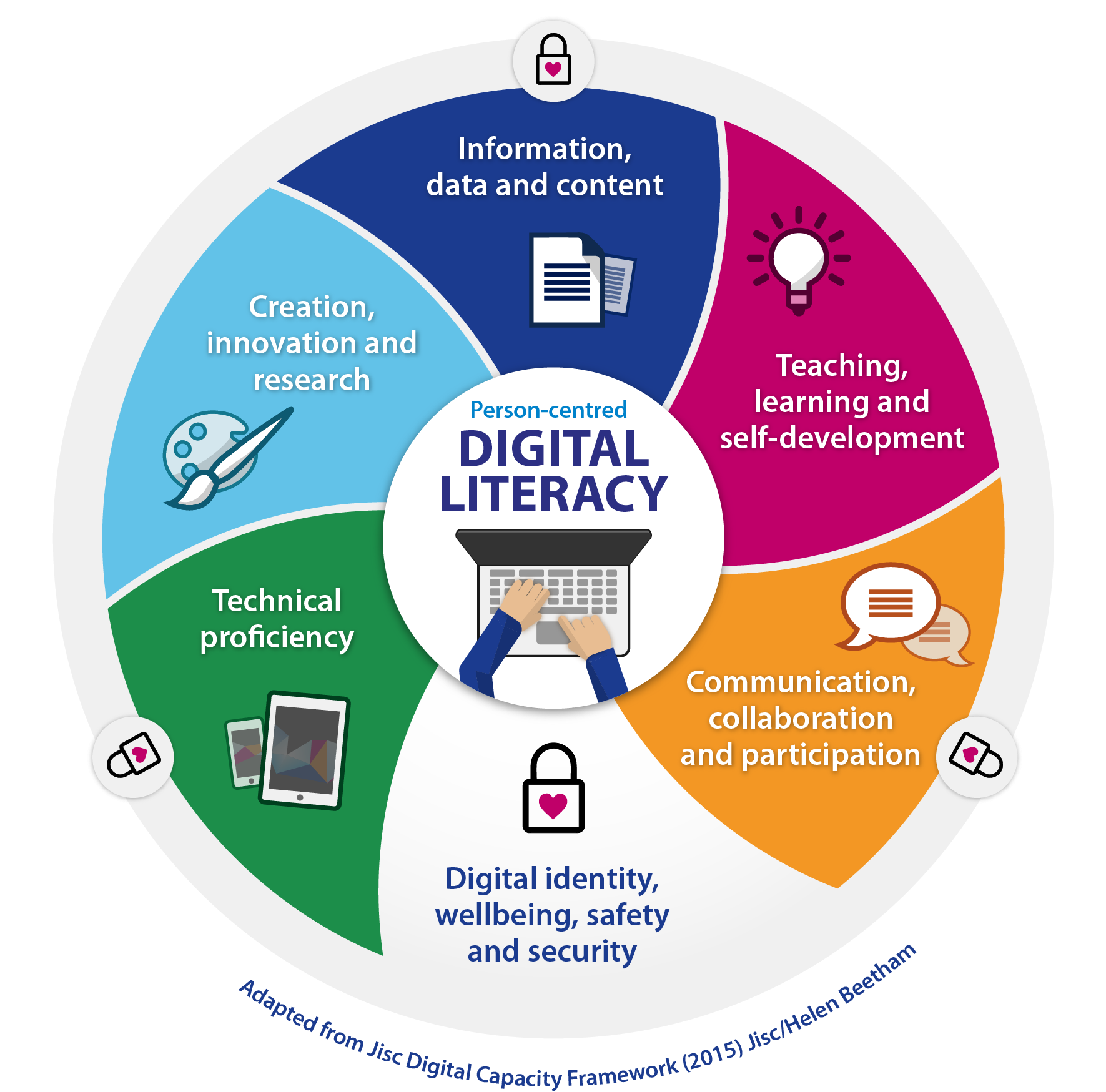 Digital technology is integrated into our everyday lives and increasingly we are using smart voice recognition and voice activated products. Is this picture true for everyone? When we talk of a digital 'we' we exclude vast numbers of people who lack access and the most basic digital skills.
A recent global study revealed that executives believe that the root cause of many issues is due to the fact that employees are insufficiently digitally literate. The health and care workforce presents a similar picture to the workforce as a whole and our work focuses on how to improve the digital literacy of that workforce. 
The digital literacy project is about improving the digital capabilities of everyone working in health and social care. The best care of all individuals is only possible if these capabilities are fully developed and exploited.
Excellent digital capabilities include a positive attitude towards technology and innovation and its potential to improve care and outcomes. With improved overall digital capabilities, we can all maximise that potential.
The Building a Digital Ready Workforce (BDRW) programme is a national programme that is part of the Personalised Health and Care 2020 portfolio directed by the National Information Board.  The programme is cross organisational and sits between HEE and NHS Digital. The digital literacy of the whole workforce is one element of BDRW which is also working to develop digital leadership and to support and develop digital specialists in the health and care workforce.  
What is digital literacy?
We define digital literacy as:
Those capabilities that fit someone for living, learning, working, participating and thriving in a digital society"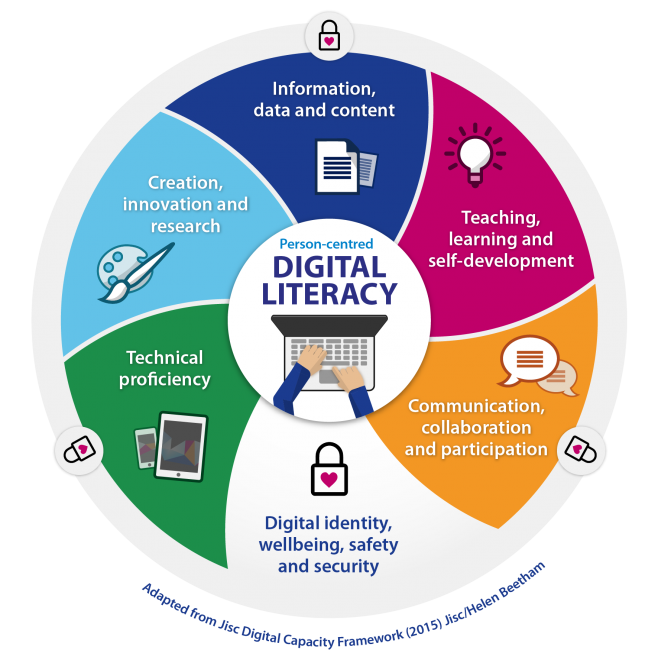 The domains
In common with most digital literacy frameworks, ours sees digital literacy as plural and describes this by way of different domains (or categories). Each has its own capabilities that describe what is needed from staff in order to maximise the potential that technology offers. The focus is not simply on technical skill but includes a range of dimensions, mapping to knowledge, skills, attitudes and behaviours across social, cultural and ethical dimensions.
Digital identity, wellbeing, safety and security
Communication, collaboration and participation
Teaching, learning and self-development
Information, data and content
Creation, innovation and research
Technical proficiency
The first domain - digital identity, wellbeing, safety and security – underpins those surrounding. Everything we do must be within a safe and secure context with due regard for our own and others' wellbeing.  Anything we do online contributes to a created digital identity or identities which we all need to be mindful of and, of course, the security of our own and others' data is paramount.
The digital capabilities framework
The framework consists of the six domains and the distinct capabilities that sit within each one.  These capabilities are presented at four different levels ranging from basic to expert. The framework is for use by anyone working in health or care. 
It is intended as a developmental and supportive tool that can empower and enable.  It is intended that anyone accessing the framework can be provided with guidance towards extending their digital capabilities to be able to live, learn, work, participate and thrive in our complex, ever-changing digital world.
Following much stakeholder engagement, including a range of workshops across different workforce groups, we completed the framework at the beginning of 2018.  The framework is not intended as a static set of competencies but instead outlines generic capabilities that support individual motivation and development. Crucially, the framework promotes positive attitudes towards change, technology and innovation.  The framework will necessarily be a dynamic, iterative document.
We encourage the widest use possible of the digital literacy definition, the domain diagram can be downloaded from this page as can the digital capabilities framework .  
Self-assessment in digital literacy
As part of the work on a capabilities framework, we are looking at the development of a tool or interface that may be used by individuals to 'diagnose' their own current state of digital literacy. This step towards identifying ways to address either specific skills gaps. The NHS and care sector are already seeing new roles emerging that utilise and depend on digital. Horizon scanning within and beyond HEE suggests that digital capabilities, some identified, others yet to emerge, will drive the creation of more new roles that will help deliver better health and care outcomes.  The work of the Topol Review is to assess the impact of new technologies on the future workforce and the digital capabilities of all will be of crucial importance.
Working in partnership with the Royal College of Nursing
We have been delighted to work in partnership with the Royal College of Nursing (RCN) on some of our digital literacy work. Together, we are working to promote the widest use across the health and care landscape of our definition of digital literacy and the digital capabilities that sit within that definition. Our document, 'Improving Digital Literacy', available below, explains what digital literacy is and why it is important.
Continuing research, scoping and exploration are vital to the digital literacy project. Below are some of the papers produced in support of our work.
Next steps
We are working on ways in which anyone and everyone can easily access and use the framework.
We are working on a pilot project exploring the use of AI in creating personalised learning resources to help improve digital capabilities.
We are continuing testing of the digital capabilities framework in 'real life' settings.
We are engaged in different pilots to test the dissemination and use of the framework to address specific digital literacy developmental needs.
Share this content using: http://tinyurl.com/kgh69zp