Endoscopy
Providing endoscopists with the skills and competencies they need to deliver effective and efficient diagnostics
---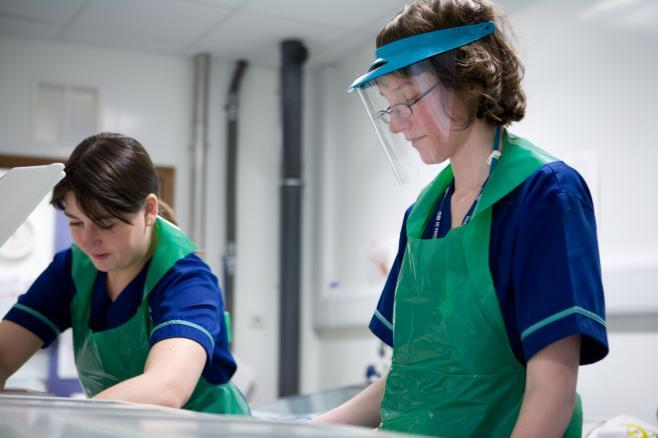 Endoscopy
Demand for gastrointestinal (GI) endoscopy in the UK is expected to increase over the next decade due to increased patient expectations, emphasis on early diagnosis and better uptake of screening.
To address demand, GI endoscopic procedures that have traditionally been carried out by doctors are increasingly being performed by nurses and other non-medical registered practitioners – known as non-medical endoscopists (NMEs). Nurse endoscopists already undertake as much of 20% of the workload in an endoscopy unit, and NHS Improving Quality initiatives have estimated that up to 40% of low risk, high volume endoscopic procedures could potentially be carried out by NMEs.
Training an additional 200 non-medical endoscopists by 2018
In 2016 we launched an accelerated pilot training programme for non-medical endoscopists (NMEs) to help meet endoscopy workforce and service needs. Following a selection process developed with Joint Advisory Group on GI Endoscopy (JAG), 40 registered health professionals from across England were selected to train in two cohorts starting in January and April 2016. The programme provided a comprehensive blended learning package including completion of the Non-Medical Endoscopists Competence Assessment Portfolio.
The first cohort has now successfully completed their training enabling them to deliver procedures within their organisations in either upper gastrointestinal (GI) endoscopy or flexible sigmoidoscopy, providing expanded workforce capacity, greater skill mix and improved services for patients.
"The NME role is an extension to my current job and it has been a really enjoyable challenge to learn a new skill set"

Jane Homer, first cohort trainee, Western Sussex Hospitals NHS Trust
"Jane has become a very competent safe and comfortable flexible sigmoidoscopist. She is aware of the pressures on newly qualified non-medical endoscopists and we will ensure that she has continuous mentorship to support her through any early difficulties."

Mr Neil Cripps, colorectal surgeon and clinical supervisor at Western Sussex Hospitals NHS Trust
The programme supports Secretary of State's commitment of an additional 200 NMEs by 2018 and is being independently evaluated. Following an interim evaluation, the programme is starting to roll out more widely, with the next trainee cohort is expected to start in January 2017. We've written to trusts and other relevant bodies inviting applications from suitably qualified health professionals and a selection process for the next cohort will be held in December. For further information contact HEE.DiagnosticProgramme@nhs.net.
Non-Medical Endoscopists (NMEs) Competence Assessment Portfolio
Working with major national endoscopy stakeholders* we've developed the 'Competence Assessment Portfolio for Non-Medical Endoscopists'.
The portfolio will provide a framework for non-medical endoscopists that ensures a consistent basis for education and training, optimises patient safety and supports high quality standards of care.
It links to the 'Non-Medical Endoscopists Career Framework' by enabling NMEs to develop a portfolio, evidencing the competencies they've achieved.
Who is it for?
Trainee and practising non-medical endoscopists, their clinical supervisors, mentors and managers will be able to use the portfolio to demonstrate achievement of the skills and knowledge required to deliver safe and effective quality care through core and specific competencies, and to identify and manage risks.
* Stakeholders include the Joint Advisory Group on GI Endoscopy (JAG), the British Society of Gastroenterology, NHS Improving Quality, Royal College of Nursing, Council of Deans and higher education institutions.