International Experienced Paramedics Programme
Health Education England (HEE), part of the UK National Health Service (NHS), is proud to launch the newly formed International Experienced Paramedics Programme (IEPP). This programme offers qualified Paramedics who already hold or are eligible to apply for a UK Health and Care Professions Council (HCPC) registration, the opportunity to live and work in England as a Paramedic at one of our NHS Ambulance Service Trusts.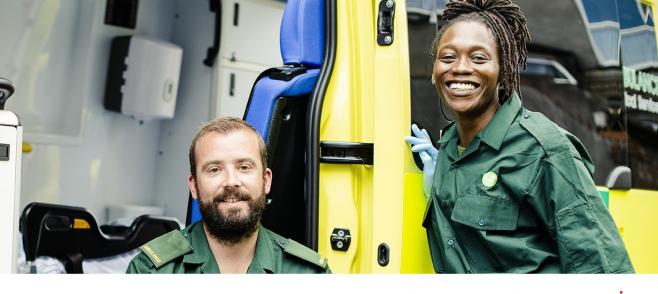 The NHS has always benefitted from an internationally recruited workforce, and this includes the increasing numbers of Paramedics from overseas who have chosen to join us in recent years. Working within the NHS provides a great opportunity to work in a world-renowned health care system, whilst developing your core Paramedic skills with Ambulance Trusts who have a proven experience of welcoming clinicians from across the globe. You will be supported throughout this process from the initial application stage, during your relocation and transition to UK life, and throughout the time you are employed by the NHS. We have created a programme based on our comprehensive experience of recruiting thousands of health care professionals from overseas. This will ensure that your journey is as stress free as possible throughout your application process and, should you be successful, your relocation to England.
To join the Programme you will need:
•            have at least two years' experience of working as a qualified Paramedic
•            hold an English Language qualification (IELTS) with a minimum overall score of 7.0 with no individual section below 6.5 or a TOEFL score of at least 100/120, if English isn't your first language
•            have a willingness to relocate to England and join the NHS on an initial three- year contract from mid-2022 onwards
•            have not been previously refused a UK Visa or told you are ineligible to receive one
In return, we will offer you:
•            a three -year contract of employment, subject to securing a UK Visa, with an NHS Ambulance Service Trust as a Paramedic, including a competitive starting salary, 27 days per year paid leave and access to the NHS Pension scheme
•            access to free universal healthcare provided by the NHS
•            a free flight to the UK, your visa costs paid and the provision of accommodation at no cost to you, for the first three months of your time in the UK
•            a structured induction course that will cover your advanced driver training and a tailored training programme that will bring you up to speed you with the local clinical procedures and protocols of the respective NHS Trust
•            a refund of the cost of your registration with the Health Care Professions Council (HCPC) - the governing body of UK Paramedics, once you arrive in the UK
•            ongoing mentorship including continued development/training opportunities to ensure your HCPC registration will be maintained throughout your employment
•            the opportunity to experience a new and exciting culture
•            ongoing pastoral support for the duration of your time within the NHS
What areas of England can I apply to work in?
The London Ambulance Service (LAS) and South East Coast Ambulance Services (SECAMB) are the partner Ambulance Trusts for this programme.
The London Ambulance Service (LAS)
About the London Ambulance Service
Read about the Paramedic Pathway
Read about the NQP journey
Read about the different sectors covering London
The South East Coast Ambulance Service (SECAMB)
About the South East Coast Ambulance Services
What's next:
If you are interested in joining England's paramedic workforce you can apply here:
https://forms.office.com/r/scsTqt9UuB
The closing date for all applications is 18th February 2022 with the intention of conducting interviews in the first quarter of the year.
The successful candidates must be able to relocate to England from mid-2022.
If you have any queries please contact us global.ahps@hee.nhs.uk
Return to the top of the page.