West midlands leadership academy
We are a local delivery partner of the NHS Leadership Academy, delivering national and local programmes against eight additional work streams.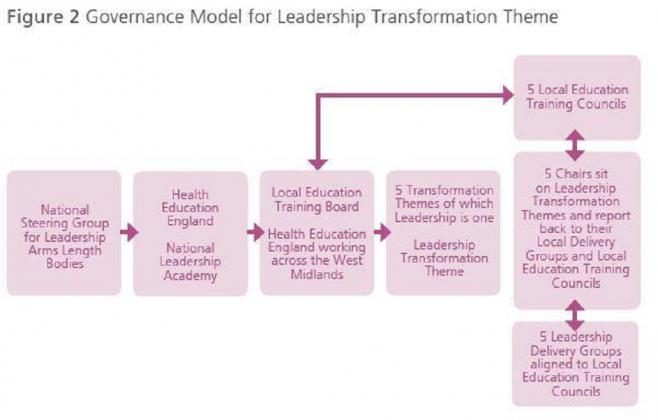 There is significant strength in the collaboration and partnership working between the nine other LDPs and the NHS Leadership Academy. The network provides opportunities for sharing resources, knowledge and expertise about local approaches to leadership development, challenges and priorities.
The West Midlands Leadership Forum was revised and revitalised to become the Leadership Transformation Theme. This was a pivotal moment for the Forum as it meant leadership was truly embedded within Health Education England and seen of equal importance, as well as having a key role to play in the success of the other Transformation Themes. As part of this transition the existing business plan (2014/15) was amalgamated to be inclusive of 2015/16 and also included the Service Level Agreement (SLA) with the National Leadership Academy. The finance allocation for leadership comes from two funding sources; from the National Leadership Academy and into the West Midlands through the Leadership Transformation Theme. The Figure below shows how stakeholders engage through the governance model of the Leadership Transformation Theme.
We invite you to take up our development opportunities, or guide and support your staff to do so. Please use the menu below to find out more.
Please see related documents below
Contact us
If you would like further information on any of our interventions or how we can help you, please do contact our team by:
Maximising Leadership in the Pre-Registration Student Curricula Research
Watch our on Maximising Potential conversation Tool (MPCT).
After watching the video you can download the full conversation tool guide so you can integrate it into your 121s and appraisals