HEE BMJ Best Practice comms resources
The following items are for communications and engagement staff and trainers to use to help us promote the BMJ Best Practice online resource and mobile app - funded by HEE and free to all NHS staff and learners.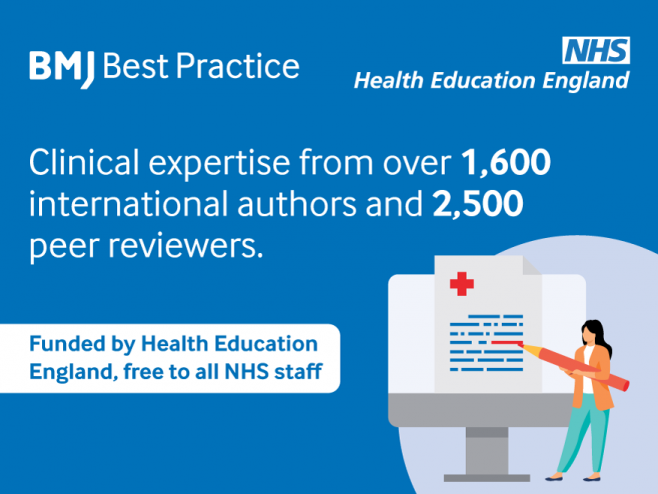 BMJ Best Practice is a clinical decision-making support tool providing the latest evidence-based information to use at the point of care. Funded by Health Education England (HEE), it is free to all NHS healthcare professionals and learners in England.
Rated as one of the best support tools worldwide, BMJ Best Practice includes step by step guidance on diagnosis, prognosis, treatment and prevention as well as medical calculators, how-to videos and patient information leaflets.  Content includes clinical expertise from over 1,600 international authors and 2,500 peer reviewers which means users have up to date references available at their fingertips, anywhere, any time of day or night.
As well as essential COVID-19 resources to support healthcare professionals with diagnosis and management of COVID-19, staff will have access to the latest evidence on thousands of clinical topics, medical calculators, videos on common procedures and nearly 500 patient information leaflets.
All NHS staff in England can access BMJ Best Practice by going to bmj.com/hee where they can register using their NHS OpenAthens username and password (instructions here). Once registered they can also download and use it via an app on a mobile device.
On this page you can find:
Example short articles/bulletin text 
Digital poster and flyer on registering and downloading the app
Printable poster artwork
A QR code to the site and social media graphics (j-pegs)
Download files here:

BMJ Best Practice - content - DEC2020.docx

HEE BMJ Best Practice - social and QR code graphics.docx

BMJ download the app flyer.pdf

HEE-BMJ-Best-Practice-A5-Benefits-Postcard-DIGITAL.pdf

2 HEE - Best Practice A3 Poster Editable PRINT.pdf

1 HEE - Best Practice A3 Poster editable PRINT.pdf

1 HEE - Best Practice A3 Poster editable PRINT.pdf