First Contact Practitioners & Advanced Practitioners - Paramedics
The First Contact Practitioners and Advanced Practitioners in Primary Care: (Paramedics) A Roadmap to Practice is a supportive document that provides a clear educational pathway from undergraduate to advanced practice for clinicians wishing to pursue a career in primary care.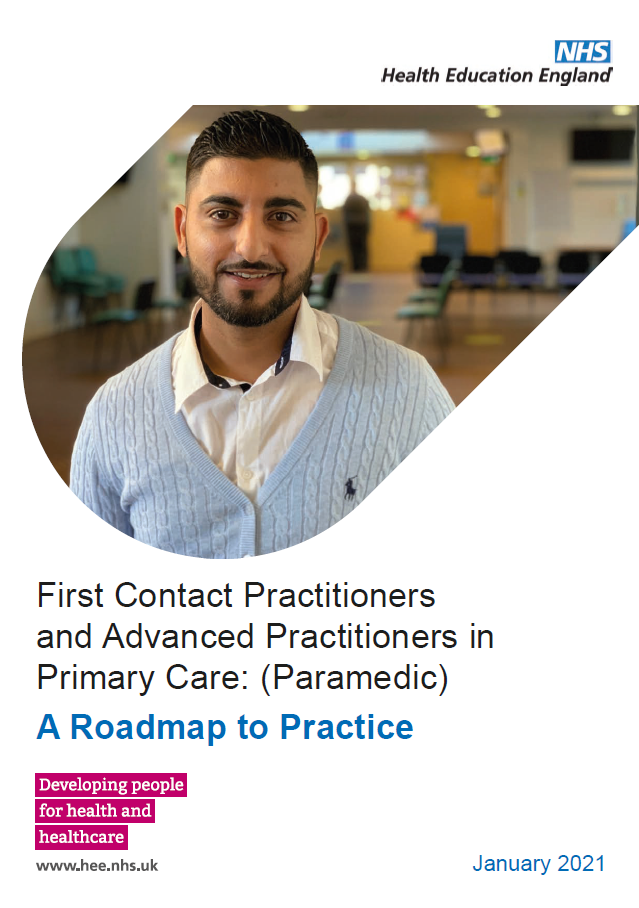 Clinicians completing the capability framework will be recognised by Health Education England's Centre for Advancing Practice and will be placed on the Directory as a First Contact Practitioner.
The 'roadmap to practice' outlines the skills and attributes needed to help paramedics become first contact practitioners (FCPs) or advanced practitioners (APs). The new roadmap provides a clear educational pathway for paramedics who wish to work in primary care, as well as setting out the supervision and governance needed and giving training guidance for supervisors.
It clearly articulates the capabilities so that employers and workforce planners can understand what the clinicians can offer to the multi-professional team to enable the best care for their patient population. It also provides clear guidance of the expected supervision needed to support the roadmap to practice and outlines the bespoke supervision training that a supervisor needs to have completed.
It is expected that all clinicians applying for roles in primary care will have completed training and have been recognised by our Centre for Advancing Practice prior to job interview by April 2022.
From April 2021 clinicians should have started either the portfolio route of have started an FCP HEI level 7 module to prospectively and retrospectively to meet this deadline.
By providing a standard of practice there is a solid governance structure around First Contact roles and advanced practice in primary care. This ensures gold standard care and puts our patient's safety first.
Note: The mandatory e-learning modules for personalised care in the roadmap have moved onto the new personalised care platform
Please download the document below and save locally before completing the areas marked to track capabilities. 
Portfolio routes tend not have the same rigour as an academic pathway, so why does the College support this, given it has a defined career framework?
Portfolio routes can inherently be more challenging as its direction isn't necessarily laid out in the way a programme of study would be. It is down to the individual's learning style and preferences whether a fully taught programme or a portfolio is best suited to their needs.  Portfolios can be particularly useful where some staff have completed some academic modules and need to build on this to demonstrate their experiential learning.  Completing the portfolio will require the individual to fully 'map', within their clinical narrative, how the requirements of the FCP or AP framework have been met. They will need to upload their portfolio of evidence and have this verified, where possible at the point of upload. The rigour with which the peer reviewers will scrutinise an individual's portfolio, the mapping and the evidence that is submitted will follow the same detailed and meticulous review that programme accreditation goes through. The processes and oversight will ensure that the same academic rigour is followed.
There is a lot of discussion about the rotational model within ambulance services. Why would an ambulance service train someone to leave? What is the benefit to an ambulance trust developing staff to work in primary care?
A - When evaluations have been done of the rotational models ambulance trusts offer, many staff liked the idea of working in primary care but didn't want to do it long-term. They enjoyed the different workload and environment but missed the ambulance-based aspects of their work. The benefits to staff included feeling better equipped to deal with less urgent cases such as those who rang an ambulance instead of seeing their GP, or who were suffering with minor illness. The benefits for ambulance trusts include being able to facilitate career progression and development, thus contributing to staff retention.  Evaluations showed it also improved the non-conveyance rates for those staff who had been on a rotation (HEE, 2018).
Read the Evaluation of early stage development of rotating paramedic model pilot sites
The roadmap states the clinical supervisor who recognises the above stages must be an advanced practitioner, a consultant practitioner, or a GP who has completed the HEE two day primary care supervisor programme. Who will pay for this training and what is the benefit to GPs signing up to be a trainer?
The initial Roadmap Supervision programme for trainers is being funded by HEE. Supervision in practice should be embedded within everyone's role, and this interlinks with the other elements of the Advanced Practice capabilities.  Some GPs prefer to have more input into their staff's training and supervision as this enables awareness of the level of practice expected for entry onto the Centre of Advancing Practice's directory. Those starting at FCP level are likely to have been employed as part of the ARRS (Additional Roles Reimbursement Scheme). Therefore, if being recruited into a funded FCP post, then the Primary Care Network will be aware of the training and supervision needs of their staff, which can also be facilitated by other APs.  Paramedics may go straight into trainee AP posts and both FCPs and APs could engage with supervision sessions including peer review, one-to-one meetings and session debriefs.
GPs often want experienced, ready-made staff. I don't have a full MSc but I have completed clinical modules, independent prescribing and have experience. I don't want to do a dissertation, research, education or leadership and would prefer to build on my clinical skills. How does this affect me if I don't want to do the other three pillars?
The benefit of the Centre of Advancing Practice is that clinicians can demonstrate and evidence their chosen scope of practice to the level needed to be eligible to meet the Directory requirements.  The emphasis within the FCP capabilities is clinical, however, focussing on clinical skills only restricts personal development as a progression from FCP to AP, therefore engagement to demonstrate the integration of capability across all four elements of advanced practice is encouraged.
Will the FCP Roadmap alienate smaller practices that want to become involved in developing paramedic staff if all the roles are at Primary Care Network level?
The Additional Roles Reimbursement Scheme (ARRS) funding is at Primary Care Network level but having a clear roadmap will inform smaller practices of the scope and level paramedics can work towards, which will invariably help guide staff development.
Will using Agenda For Change (AFC) banding in the roadmap alienate or inform GPs?
Using AFC will inform GPs, it should be used as a guide and demonstrate staff worth in terms of where they are in wider comparable roles.
Some universities are encouraging their students to go straight onto certain Masters programmes post registration. How useful is advanced study without clinical experience, as some Newly Qualified Paramedics (NQP) may not have developed an awareness of "unconscious incompetence"?
All the different professions' roadmaps will recommend that staff should typically complete three years post NQP before applying for roles in primary care.  This addresses the difficulty novice practitioners may encounter if trying to achieve the advanced level of clinical practice required for FCP, as experience must be gained to facilitate application of academic knowledge into practice.
What is the motivation for ambulance services to develop staff for these roles when those staff could potentially leave later on? These is also the argument that practising some of the advanced assessment skills may delay day to day turn-around on jobs.
Staff retention could be improved if staff are encouraged in development roles. Increased turn-around times are likely to be compensated for in terms of reduced conveyance rates as staff become more confident in using their increased knowledge and skills.
How will this affect me as I already work in primary care and don't see how this will impact my practice?
The roadmap sets a standard of practice, and will allow evidence to be built to demonstrate capability, thus facilitating portfolio submission for verification to enable entry onto the FCP directory with the Centre of Advancing Practice.  Existing staff in primary care will need to retrospectively complete the portfolio route to be recognised on the FCP or AP directory. 
What if I don't want to do any of their academic qualifications as I am operating as an Advanced Practitioner already?
An Advanced Practitioner works at the top of their licence by demonstrating integration of all four elements of advanced practice, as detailed in HEE's Multi-Professional Framework for Advanced Clinical Practice in England.  A First Contact Practitioner is a diagnostic clinician working in primary care at the top of their clinical scope of practice. HEE would encourage staff already in post to identify where on the roadmap their current scope of practice sits to enable them to apply for recognition to either join the FCP or AP directory by submitting a portfolio of evidence against the framework.
If I complete the pathway, will my GP practice pay me at the level indicated in the framework?
Pay in general practice typically is negotiated based upon job description, and associated competence and/or capability.  Recognition by the Centre for Advancing Practice demonstrates to an employer that the capabilities have been met and therefore should correspond with the recommended pay rates.
I have already completed the College diploma. Can that count towards my development retrospectively?
There is work in progress to cross-reference the College of Paramedics' Diploma in Primary and Urgent Care learning outcomes with the FCP requirements.  It is anticipated that paramedics who have completed the College exam and required e-learning modules will be mapped against Stage One of the Roadmap.
Can I get on to the FCP pathway without taking the College's Diploma in Primary and Urgent Care?
Yes, you can follow the pathway by completing Stage One - entry into primary care module which also includes the e-learning modules and evidencing your clinical capabilities in Stage Two.  Both stages will require verification from a recognised supervisor.
I have taken the Royal College of Surgeons' Edinburgh Primary Care exam, can that count towards my development?
At this time, only the recognised level 7 academic modules, and potentially the College Diploma will count toward Stage One of the FCP Roadmap. The Edinburgh exam may count towards development within the portfolio if the learning outcomes can be cross- referenced and evidenced retrospectively within the portfolio.
I am already operating as an Advanced Practitioner in primary care, can I be added to the HEE Centre of Advancing Practice Directory?
If you already hold a Masters in Advanced Clinical Practice, and the degree has been accredited by HEE, after completion of the required e-learning modules you can collate and submit your evidence for recognition by the Centre to be added to AP directory.
If my ambulance trust does not offer a rotational programme, will I have to leave to get into primary care and how will I get to become a FCP?
The rotational model is continually evolving with more ambulance trusts exploring suitable options to develop this programme. We recommend speaking to your own trust to find out their position. Some Primary Care Networks may be advertising to recruit paramedics directly onto FCP programmes without using a rotational model. The roadmap details the steps to take for those paramedics aspiring to work in primary care.
Will this affect my right as an independent prescriber?
No.  
Will the independent prescriber​ course be part of my development on the FCP programme?
FCPs do not need to be independent prescribers of medicines and can work under PGDs.  Development opportunities may be available to complete the Independent prescribing of medicines modules, and consideration must be given to eligibility before applying for courses.  
Who is responsible for supervision?
If employed on a rotational model, the day-to-day clinical supervision is the responsibility of the practice or Primary Care Network where the paramedic is working.  Continuing Professional Development supervision remains the responsibility of the Ambulance Trust. If directly employed, then both clinical supervision and CPD supervision are the responsibility of the practice or Primary Care Network.