Building Partnerships
6 November 2018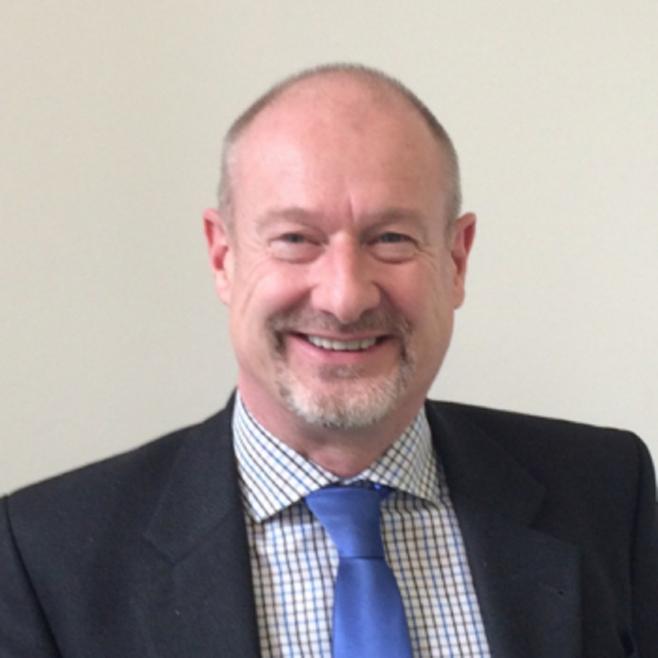 Patrick Mitchell, Health Education England's (HEE) Regional Director for the south, argues strongly that partnerships still have the power to transform future health & care services.
Breaking Barriers
In this fast moving and ever-changing world, the one thing that everyone can recognise is the power of new partnerships and collaborations to truly deliver rapid change.
Over the last two years, HEE's south leadership team, through adopting the principles of matrix working, has built up partnerships that are bringing about real improvements in health education and training.
This has required a very different mindset, not only from our managers and staff, but also from the partners we are building those collaborations with.
At our last Local Education and Training Board (LETB) meeting we heard from a number of inspiring partnerships that are also delivering real improvements to services.
The first was the Breaking Barriers Innovations project, a fascinating initiative that is not just improving joint working in health and social care but right across key areas of public service.
This project, which started in Bradford (West Yorkshire), now has work streams across most areas of the country under the inspiring leadership of Lord Narendra Patel, OBE.
Lord Patel, who is Chair of the Advisory Board for the Breaking Barriers Innovations project, explained that the aim of the project is to support local place-based transformation in key areas of public provision using integration and innovation.
The model includes a series of case studies highlighting successful collaboration among councils, NHS Trusts, education, social and private sectors. The joint working has been enabled through a variety of means including the better use of Big Data, digital transformation, innovations in education and training and estates management.
The whole Board was really impressed, not only by Lord Patel's enthusiasm, but also by the innovative and very inclusive approach to partnership that his organisation has taken, allowing everyone the opportunity to get involved. HEE is now exploring with the Breaking Barriers programme the potential for its own initiatives in this area.
Partnership still has much to offer
New Forest GP Dr. Nigel Watson, a member of our LETB, also re-enforced the benefits of partnership working during our meeting. He is leading a Review on behalf of the Secretary of State for Health, which aims to examine the partnership model of general practice.
Despite HEE recruiting the highest number of GP trainees in its history, younger medics are often reluctant to enter Partnerships in general practice for a variety of reasons, including risks to do with responsibility for assets such as buildings, instead they are often choosing to become salaried or locum GPs.
The Review was set up in response to the growing concerns about this rapid decline in the number of GP partners and is exploring the pros and cons of a GP partnership model where practices merge or join forces to manage staff and resources and deliver services. Earlier this summer there was a call for evidence to support the Review.
The figures on the decline in GP partners are stark. Almost 2000 GP partners were lost between 2015 and 2017, while the number of GPs working as locums almost doubled.  In this same period, the proportion of GPs who are partners fell from 59% to 54%.
Listening to Dr. Watson's presentation, I was struck by the benefits the partnership model can still offer (shown in the diagram below) and the fact that wider partnerships such as those being explored through Sustainability and Transformation Partnerships (STPs) should not only include acute and mental health sectors but also be fully inclusive of primary care partnerships, the third sector and integrate social care.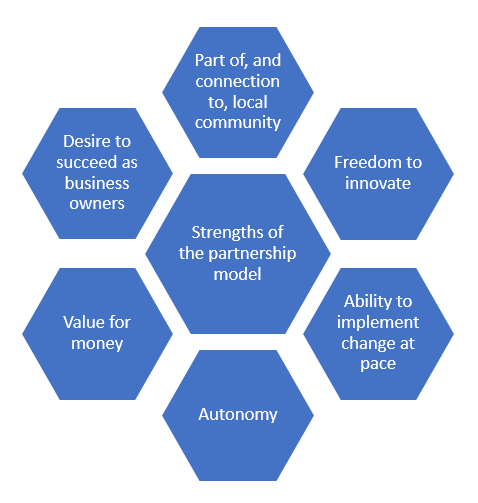 Dr Watson says: "My personal view is that the partnership model has not reached the end of its life - there is more we can do. But practices themselves need to be working together to deliver more at scale."
Collaboration in Action
Earlier this year, I saw just how successful partnership and collaboration can be in transforming and improving services within our own region. HEE's Kent, Surrey, Sussex local office, and our Leadership Academy have been working closely with the Surrey Heartlands Health and Care Partnership.
Through partnership working and engagement with local communities and partners, the Trust has made significant improvements including:
becoming one of the highest performing areas for winter response
a 7% decrease in GP referrals (outpatients in one area) through an advice and guidance telephone service for GPs
reduced delayed transfers from hospital, working with adult social care – (going from 94th to 58th in the country). 
In HEE, we are keen to explore how through new partnerships, we can continue to build innovation, transform workforce models, including developing new professional roles, and bring about more flexible and dynamic education and training which supports real change that is both locally driven and focused.