My reflections on NHS ConfedExpo 2022
24 June 2022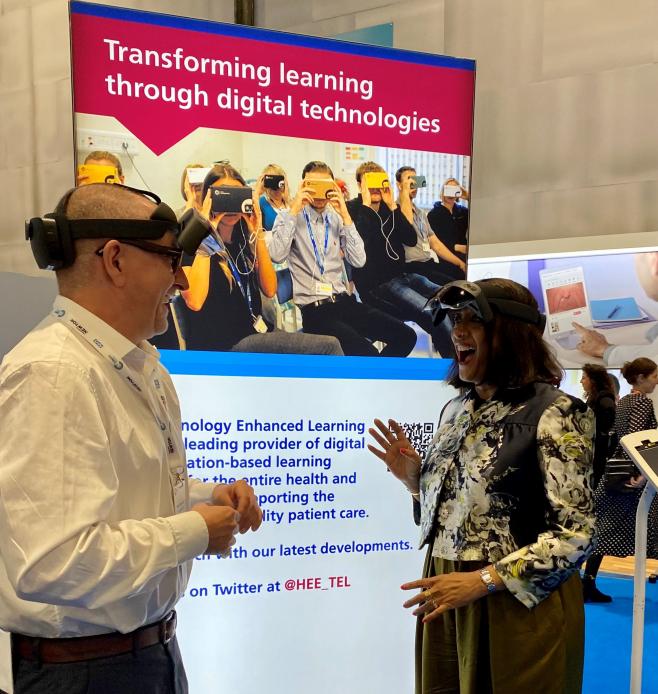 I've been reflecting this week on HEE's presence and contribution at NHS ConfedExpo 2022 last week in Liverpool. It was clear that people are focussed on, and committed to, the importance of workforce to the future of the NHS, which is what we were there to showcase.
The event attracted 6,200+ people across two days, the majority of whom are NHS leaders with real ability to lead and drive change in health and social care. It was inspiring to be involved in spreading learning and innovation and encouraging change at all levels across the system.
We shared a range of workforce, training and education programmes led by HEE, including:
Nursing and Midwifery – Nursing Associates were on HEE's stand and shared real-life examples of how the Nursing Associate programme is being embedded across the country with huge success. They spoke to many NHS leaders about their role and how they've contributed so much to their team and patient care.
Digital Readiness Education Programme – HEE's team shared the vision of the programme to create an uplift of digital skills, knowledge, understanding and awareness across the whole multi-disciplinary health and care workforce to support new ways of working.
Technology Enhanced Learning - A unique part of our offer to delegates on our stand was a variety of simulation and augmented reality training tools which are changing the way we can learn and provide training in the future. Many leaders including myself were keen to take part in a Virtual Reality simulation training environment and were amazed at just how immersive the VR was and could see how the simulations could revolutionise classroom environments.
Equality and Diversity – Celebrating our Find Your Way Guide Ambassadors: all made possible with the help of our partners at Empowerment Passport and Diversity and Ability CiC. This included a presentation by a Medic in Training, who had suffered disruption, the medical impact of Covid-19 and by his own admission was still living with the mental health and physical effects of long-Covid.  We were able to flag the assistance available via HEE's Find Your Way Guide and share information on Access to Work.  He was a perfect example of a medic who had not known he may have been eligible for up to £63K of support through DWP and Access to Work.
Workforce transformation, reform, and recovery – we had the opportunity to talk to delegates about our important work to facilitate training recovery by minimising the initial impact of the pandemic on training and progression; to support trainees and educators with wellbeing and training recovery; and to deliver long-term improvements in post graduate medical education, building future resilience into the medical education pipeline.
In addition to these, we also had eight sessions on the agenda, covering a wide range of areas from workforce recovery to sustainability in the NHS.
I'm proud to have been able to share across the health and care system so much of the work HEE, in collaboration with so many partners, continue to deliver for our learners and our NHS people.
Best Wishes
Navina
Dr Navina Evans

Chief Executive 

Health Education England
This Page was last updated on:
24 June 2022