There is no 'I' in team
24 August 2021
Hello everyone! We wanted to start by introducing ourselves. My name is Ysi Henry and I am a BSc (Hons) Physiotherapy student studying at St. George's University of London and my name is Amar Dhani and I am a pre-registration MSc Physiotherapy student also studying at St. George's. Thank you in advance for reading our blog, we sure do have an experience we would like to share with you all.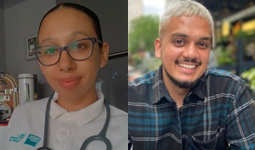 Right…where do we begin?   
Two days a week for the past six weeks, we have been working alongside the office for the Chief Allied Health Professions Officer (CAHPO) at NHS England and NHS Improvement, to help develop the future strategy for Allied Health Professions (AHPs) across England. Before we joined, there had been extensive online conversations with citizens, the AHP community (registered workforce, support workforce, students) and other health and social care professionals to understand what they felt was important in health and social care. The aim of the project is to develop health, care, and well-being in England, for both citizens and AHPs.  Our role during this placement was to ultimately increase student engagement in the final conversation that took place in July 2021. 
 Pandemic aside, turning up on placement via our laptops felt oddly strange. At first, we didn't know what to expect, we didn't know how we, as students, could contribute to such a huge project. mean us, working on a strategy to benefit citizens, existing and future AHPs… mind blowing! However, our supervisors were extremely welcoming and gave us huge confidence to succeed in our role. They settled our anxieties and asked us how we would like to contribute to the project. As students, we found this approach very empowering. It was decided – we would crowdsource internally and externally, to drive student engagement.   
Comms, comms and more comms. We networked... we made things happen! 
We have to say, the highlight of our six-week placement was when we realised, what we had known as the 'unseen side' of physiotherapy practice was a space, where great things happen. As students, we were not aware of the variety of roles and transferrable skills you can acquire, develop and utilise whilst working on major projects, like developing new and refining existing policies, aiming to influence clinical practice, for the benefit of both citizens and healthcare professionals. Coming to the end of our placement, we can now honestly say with such conviction, the 'unseen side' is where we have come to find some of the most amazing opportunities and appreciation for the hard work that goes unnoticed.   
Attending multiple team meetings throughout our days with the office for the Chief AHP Officer, helped us understand and appreciate the hard work and commitment each team member makes, to improve the service and experiences of millions of people across England.
We would like to extend a thank you to Suzanne Rastrick, CAHPO for England for her commitment to providing placement opportunities for pre-registration AHP learners. Our experience is that this type of AHP placement is invaluable. It has provided us with a unique lens on the impact AHPs have underpinning health and social care practice. We are grateful for this opportunity and without a doubt want to be part of the project in five years' time when the next strategy is being developed. Until then, it's been a pleasure.