Lucy's musical tribute steals the show in HEE competition
21 October 2020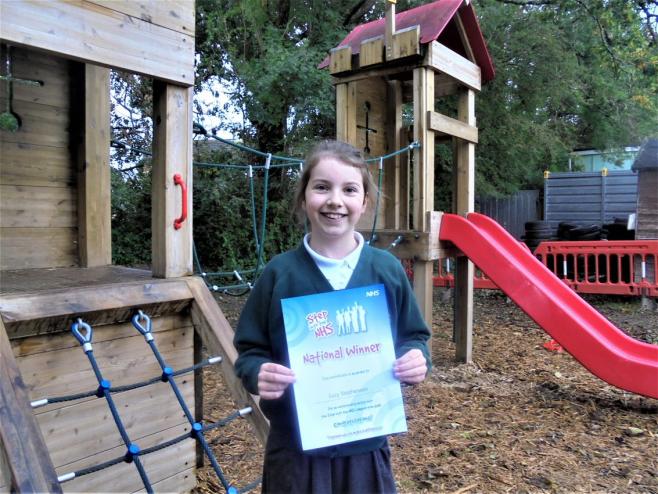 A 10-year-old girl from  Devon has been named national winner in HEE's annual contest designed to help primary school children learn about roles in the NHS.
Lucy Stephenson, a pupil at Manor Primary School in Ivybridge, used her creativity to create an inspiring song about some of the jobs within the NHS.
Lucy scooped top prize in the Step Into The NHS primary schools competition, winning vouchers to spend.
This year's competition saw an impressive 1,871 entries from more than 3,000 pupils in 273 primary schools throughout England.
It had particular resonance, because as well as learning about some of the 350 careers in the NHS, pupils had chance to say thank you to health service staff for their work fighting COVID-19.
The judges were A&E doctor and TV presenter Dr Ronx, professor of careers education Tristram Hooley and teacher trainer Hannah Wilson.
Lucy said: "I really enjoy writing songs and performing them. In my song that I entered for the competition I mentioned biomedical scientists and radiographers as they were two of the jobs I researched. I'm interested in science and am thinking about being a scientist in the future."
Judge Dr Ronx added:  "Lucy's talent shone through and I was impressed. Well done!"
Lucy's class teacher Neal Phillips said: "The 'Step into the NHS' competition provided an excellent opportunity for many of our pupils to learn a little bit more about the vast range of roles in the NHS, at a time when frontline health workers were very much in the national and local news.
"The details were added to our home learning packs to enrich the curriculum and were used by the pupils to research the different roles."
The Step Into The NHS contest provides a host of useful teaching resources to help raise students' aspirations and understanding of the many careers available in the NHS.
The resources help students learn about themselves by encouraging them to explore the wide range of jobs in the health service.
Dr Navina Evans, Chief Executive, Health Education England, said:  "This year's primary school entries for the Step Into The NHS contest have been superb – the children's messages of thanks to NHS key workers have been truly heart-warming, and their research is genuinely thought-provoking.
"I'm delighted to congratulate Lucy, as well as all our national and regional winners, and would like to say a big thank you to everyone who took part."
Details of all the regional primary school winners can be found on the Health Careers website:-
https://www.healthcareers.nhs.uk/career-planning/career-advisers-and-teachers/teaching-resources/step-nhs-competition-key-stage-2/201920-winners-step-nhs-primary-schools-competition
The competition is returning for the 2020-21 school year with a brand-new look designed to increase its appeal to students across the country. Developed in partnership with teachers, the Step Into The NHS website includes a careers quiz, real-life stories from NHS staff, work experience tips and learning resources to help young people explore the hundreds of roles within the NHS: https://www.stepintothenhs.nhs.uk/
For details of all the career opportunities the NHS can offer, visit the Health Careers website here:- https://www.healthcareers.nhs.uk/