New learning resources available to help NHS staff who want to speak up 
2 October 2020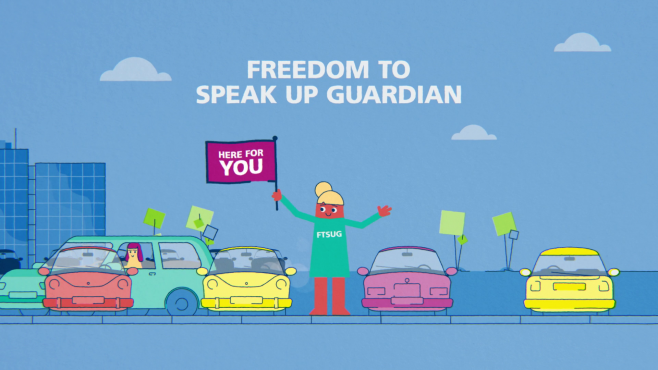 New e-learning resources and an induction film to support NHS staff who want to raise concerns on issues such as patient safety are being launched by Health Education England (HEE) during national Speak up Month - the national campaign run by the National Guardian's Office aimed at encouraging a speaking up culture across the NHS where people feel their voices will be heard, improving transparency and sharing best practice. 
The resources include 'Speak Up' the first instalment of a three-part 'Speak Up, Listen Up, Follow Up' e-learning programme that supports staff in raising concerns on a number of issues such as inappropriate treatment, bullying harassment or poor behaviours. 'Speak Up' is aimed at all NHS colleagues including volunteers, students and those in training, regardless of their contract terms. It will help learners understand how to speak up and what to expect when they do. Release of the subsequent 'Listen Up' and 'Follow up' modules, aimed at middle managers and senior leaders respectively, will follow by March 2021.  
Dr Navina Evans, Chief Executive, Health Education England said:  
"The NHS is all about people, and HEE wants to ensure that all colleagues– including front line staff, managers and trainees have tools to support them in enabling a culture where staff feel listened to. Everyone working in the NHS should feel supported to speak up about anything that affects their working lives and gets in the way of ensuring high quality care to those that we ultimately serve – patients and service users. "  
Dr Henrietta Hughes OBE, National Guardian for the NHS said:   
"Evidence consistently shows that a positive speaking up culture leads to better care for patients. And this is what drives over a million people to go to work for the NHS every day. It is everyone's responsibility to speak up when they see something that doesn't look right – the new learning resources produced by HEE will enable all staff to be better informed about how they can play their part."  
HEE has also launched an animated film that can be used in NHS Trust inductions, to inform new starters about how their Freedom to Speak Up Guardian can support them alongside other routes such as their line manager and HR support.