New mental wellbeing films outline help available to learners and supervisors
16 September 2020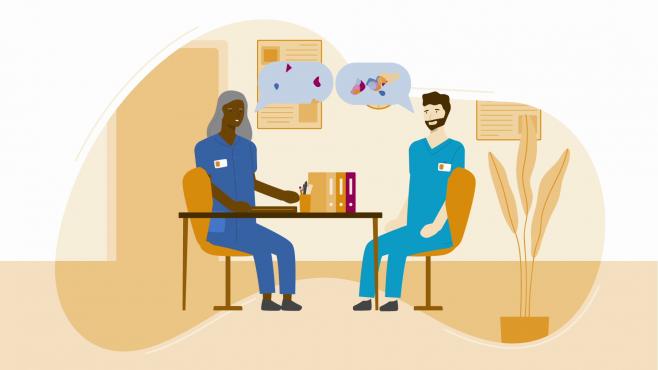 It is important that those experiencing mental ill health know they can talk about it and receive help if they need it. Those in a position of authority should also know what is required of them and how they can help if they are approached by someone who is experiencing mental ill health.
Two new animated films have been produced by Health Education England (HEE) in order to make health and care learners, as well as their supervisors, aware of the help that is available to them if they are struggling.
The two new films, one aimed at learners on healthcare courses and the other aimed at supervisors can be viewed here https://www.hee.nhs.uk/our-work/supporting-your-mental-health-wellbeing.
Professor Simon Gregory, Deputy Medical Director, Primary and Integrated Care, Health Education England, said:
"1 in 6 people in England report experiencing a common mental health problem, such as anxiety and depression in any given week*.
"The mental wellbeing of learners and all health and care staff is essential if we are to expect them to learn to their maximum capabilities and provide the best possible care to patients. It is a sad fact that many still suffer in silence for a number of reasons, including a lack of awareness with respect to the support that is available to them.
"These films alongside other materials made available on the Health Education England website are a great resource which will help to raise awareness of this issue and offer practical assistance."
The learners film advises that they may have the right to access additional support and may be able to make reasonable changes to their clinical role and placement. The supervisors film gives details on how supervisors should make themselves available to their learners, protect confidentiality and make learners aware that they may have the right to make changes to their work.
As the NHS sets out a plan to 'make the NHS the best place to work' it is recognised that the mental wellbeing of the future NHS workforce will be crucial in achieving this ambition.
Health Education England has in place the NHS Staff and Learners' Mental Wellbeing Commission, led by Sir Keith Pearson and Professor Simon Gregory, Deputy Medical Director at HEE. The Commission's aim is to see an NHS where staff and learners are happy and feel fulfilled in their work, where they look forward to going to work and are proud of the care they provide to their patients. There is good evidence that happy staff are more compassionate and provide safer care. Earlier in the year Health Education England hosted an event which was attended by NHS staff and learners where they discussed the importance of mental wellbeing in the workplace.
*Information from the mental health charity Mind.
This Page was last updated on:
16 September 2020