NHS England launches annual school careers contest
13 November 2023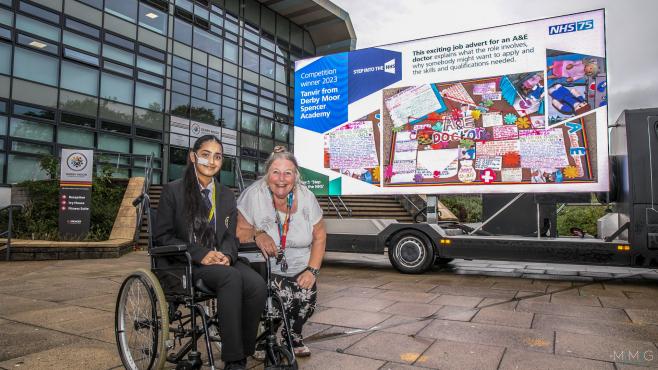 Schools across England are being invited to join an exciting curriculum-linked contest which raises career aspirations and teaches pupils about the National Health Service. 
Developed in partnership with teachers, the annual Step into the NHS competition encourages secondary school students to research and create a job advert for an NHS profession while learning about more than 350 careers in the health service.  
Winning pupils will be presented with Amazon gift vouchers and have the chance to see their work displayed in the local community.
Participating schools are provided with a wealth of free learning resources and lesson plans. Previous entrants have emphasised what a fulfilling learning experience the contest is, with 90 per cent of teachers saying Step into the NHS has helped their students understand the range of career opportunities in the NHS.
The resources are aligned to the KS3 curriculum, helping teachers meet several of the Department for Education's careers strategy aims and the Gatsby benchmarks for Good Career Guidance. 
This year's national winner, 14-year-old Tanvir Tamber, impressed the judges with a poster and video exploring the role of an A & E doctor.
Now the pupil at Derby Moor Spencer Academy, Derby, has been rewarded by seeing her winning entry tour her home town, including schools and shopping centres, on the side of an environmentally-friendly advertising van.
She said she had enjoyed researching a career for which she had a 'genuine passion'.
"The highlight was discovering the amount of insight needed and the range of conditions you have to be able to deal with, enabling you to discover your eventual specialism," she added.
Tanvir's teacher Carol Eziz said: "Our other students asked lots of questions and are really proud that one of their own has created something so wonderful. 
'The competition gave us a great opportunity to promote thinking seriously about careers in the NHS and see that if you put in hard work and effort, amazing things can happen."
Hundreds of schools take part in the Step into the NHS competition every year. This year's resources are newly-refreshed and include a 'ready to go' lesson plan which can be delivered in just an hour.
Teachers can find full details here:-  https://www.stepintothenhs.nhs.uk/secondary-school